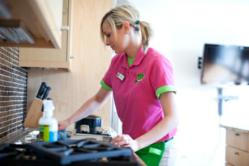 We wanted to create something really unique that had the potential to educate, and introduce people to the Better Life brand. Better Life Maids was a natural extension.
Saint Louis, MO (PRWEB) November 07, 2011
Better Life Maids, a green house cleaning franchise, has teamed up with Better Life, a manufacturer of premium green household cleaning products. Together they hope to create the nations first household name brand in green cleaning.
Founded in 2008, Better Life has made a name for itself by developing a line of household cleaners which are unmatched in safety and unbeatable in performance. Carried coast-to-coast in retailers such as Whole Foods Market, Better Life provides a range of products from their what-EVER! natural all-purpose cleaner to their Oak-Y Dokey wood furniture cleaner and polish. They have also recently launched a 100% plant derived line of hand soaps and lotions.
According to Better Life co-founder and CEO, Tim Barklage, "Better Life products provide today's educated and discriminating consumer what they are looking for in a household cleaning product – safety, performance and a touch of whimsy." Barklage adds, "Our products smell great but they are free of synthetic perfumes and fragrances, they perform great but are free of petrochemicals, and they look great in your home."
Founded in 2008 as well Better Life Maids, up until now, has operated in the St. Louis region. Like its name says, Better Life Maids provides maid services using the entire line of Better Life cleaning products. In addition to these products, Better Life Maids use green cleaning practices, an environmentally friendly fleet featuring the Toyota Prius, and promotes itself as a high quality alternative to most traditional house cleaning services. Co-founder Angela Ricketts, who is the VP of Client Experience at Better Life Maids and has a large social media following states.
"I love the fact that we are so accessible to our clients, potential clients, followers, and fans. I wanted to build a business that was transparent, and that shared my own personal values. Our marketing relies heavily on leveraging our Core Values online and developing an ongoing relationship with our clients."
Angela says she relied heavily on developing the culture first. "Our Core Values are the fundamental reason we are one of the highest rated maids services in St. Louis. Our Core Values are the standard we set for ourselves every day to deliver an excellent client experience."
While many companies make claims like this it appears that Better Life Maids actually delivers. On its Facebook page are many reviews that verify that the philosophy they have developed is a major part of its success. Angie's List, a source of independent reviews by consumers has dozens of A reviews for Better Life Maids as well. In fact for 2010 Better Life Maids received a Super Service Award from Angie's List.
"Technology has been one of the key reasons for our success as well. We have developed IPhone apps for cleaning checklists and other forms needed in the field. Our dispatch, scheduling, customer relationship management, and accounting software are all tied together with our field service apps. It's all web 2.O hosted software that we can use anywhere. Our systems make it really easy to keep up with the hundreds of clients we have built relationships with in the last 3 years," said Matt Ricketts the President and Chief Experience Officer of Better Life Maids.
As of now Better Life Maids will be expanding along side Better Life into new markets. They are planning an aggressive expansion that includes franchising in new markets, and expanding company owned units when appropriate. The combined marketing efforts of the two brands of Better Life and Better Life Maids, appears to be a first of its kind in the green product and service sector, with a service brand directly supporting the efforts of a household product line. "We wanted to create a partnership that really strengthened our consumer's affinity for Better Life. We wanted to create something really unique that had the potential to educate, and introduce people to the Better Life brand. Better Life Maids was a natural extension, and compliments our grass roots efforts to build a name brand in green household cleaning that people can trust and count on," said Tim Barklage.
About Better Life Maids
Better Life Maids is a green house cleaning service founded in St. Louis, MO. It has created a unique marketing partnership with Better Life a natural household cleaning products manufacturer. Together they are working to create the first national name brand in natural household cleaning products and green house cleaning services. Better Life Maids is expanding in select markets through a franchise development system. For more information visit http://www.betterlifemaids.com or http://www.cleanhappens.com.
###