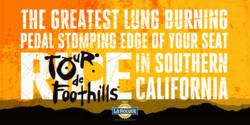 With 7,500 ft. of climbing, the Tour's Century ride is by far the toughest of the three rides.
Upland, California (PRWEB) November 03, 2011
Over 1,000 cyclists are expected to participate in The Tour de Foothills on November 12.
Started by the Upland Chamber of Commerce in 2005, the annual biking event is presented by La Rocque Better Roofs and sponsored by other Inland Empire businesses.
The Tour features three rides: a Century (100 miles), Metric Century (62 miles) and Half Metric Century (31 miles). Each route takes riders along the foothills of the San Gabriel Mountains and includes parts of the Tour of California including Glendora Mountain Road (GMR).
"The Tour de Foothills committee has made the Century route extremely challenging this year which die hard cyclists should appreciate. With 7,500 ft. of climbing, the Tour's Century ride is by far the toughest of the three rides. On this route, participants will have to climb up GMR (2,562 ft. in 10 miles) and Mt. Baldy (1,113 ft. in five miles). But, the other two routes aren't as tough. They're for riders who just want to get out there and have fun, and are new to organized cycling events," says Sonnie S. Faires, President/CEO of Upland Chamber of Commerce.
In addition to the challenging climb along the Tour's Century route, a Rest Stop Challenge has been added this year to each of the four rest stops. Thanks to rest stop sponsors La Rocque Better Roofs, Chaffey Auto Body and REI, riders will be competing for a trophy and bragging rights for providing the best rest stop. Riders will vote at the end of the event as to who had the best rest stop.
This year, for the first time, the Tour will include a kids' bike ride sponsored by REI Rancho Cucamonga. At the event, young cyclists will learn bike handling and traffic skills to help them reduce cycling injuries and enjoy the sport. Children, ages five to 12, are encouraged to attend the ride from 10 a.m. to 2 p.m. at Memorial Park during the Tour de Foothills ride. Parents are also welcome to participate.
All routes start and finish at Upland Memorial Park. Riders can register for the event at http://www.tourdefoothills.com. Registration must be completed by Nov. 6 in order to take advantage of early check-in Friday night November 11 in downtown Upland.
"We want participants to think of the Tour de Foothills bike ride as a family-friendly event. An activity that parents and kids can participate in together and have a good time," says Faires.
For more information about the Tour de Foothills, visit http://www.tourdefoothills.com or call 909-204-4465.
###