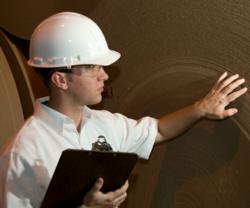 It's imperative to understand the role fogging plays in safety eyewear noncompliance.
Valley View, OH (PRWEB) November 03, 2011
Are workplace safety professionals seeing all the barriers to safety eyewear compliance? A recent article in Occupational Health and Safety Magazine notes that fogged lenses are the Number One vision-related reason for noncompliance and suggests that a simple safety audit, anti fog treatments and other practical advice can make a difference. The article, authored by Jodi Groh of Defog It anti fog, with assistance from certified safety trainer Jerry Daniels, aims to help prevent the 2000 workplace eye injuries that occur every day.
The article, Coming Out of the Fog, notes that research published in Accident Analysis & Prevention Magazine found that 100% of the worker focus groups named fogging as a factor for not wearing safety eyewear. Over 55% of research respondents suggested an anti fog solution to increase usage of personal protective eyewear. It was named by more focus groups than incentives, warning signs, eyewear cleaning stations, or as a condition of employment.
In the article Groh highlights four areas of concern that can be pinpointed in a safety audit:

Fogging Danger Zone 1: heat and humidity. Heat and humidity increase the likelihood of fogged safety glasses and safety goggles, both outdoors and indoors. Exertion levels should also be considered because strenuous activity triggers perspiration, another source of fog-producing moisture.
Fogging Danger Zone 2: sudden environmental changes. Going between hot and cold areas, indoors or out, can cause fogged eyewear for workers.
Fogging Danger Zone 3: full-body gear. Full-body and full-face protective gear are closed systems which may not allow fog-causing heat and moisture to vent appropriately.
Fogging Danger Zone 4: changes in safety eyewear selection. New designs may have a tighter fit that traps moisture or lenses made of a fog-prone material. If a fogging problem suddenly appears, these could be the cause.
The article goes on to offer additional tips for improving compliance with safety eyewear mandates. The ideas include frequent training, mentoring and providing eyewear straps and cases to keep safety glasses and goggles convenient for the user.
"It's imperative to understand the role fogging plays in safety eyewear noncompliance," says Jodi Groh, author of the article and Director of Marketing for Defog It anti fog by Nanofilm. "That's why this article in so important."
First used by the military worldwide, Defog It anti fog is proven in the toughest workplace environments where heat, cold, humidity and exertion cause fogged safety eyewear. Defog It is available as a liquid or reusable cloths and is safe and effective on safety glasses, goggles and faceshields.
Lab tests confirm the Defog It's high performance. In one test, a lens treated with Defog It was held over constant hot steam for 60 minutes without fog forming. Similar products failed in as little as 5 minutes. In another test, lenses coated with Clarity Defog It were moved between cold and hot environments 100 times without fog forming.
About Defog It™ (http://www.defogitworks.com). Defog It anti fog liquid and anti fog towelettes are safe and effective on safety glasses and goggles, eyeglasses, sunglasses, and other eyewear. First proven in the military, Defog It is now the choice in workplaces where heat, cold, humidity, changing temperatures or exertion create a fogging risk. Product information, safety resources and product reviews are available online.
About Nanofilm (http://www.nanofilmproducts.com). Nanofilm, founded in 1985, is the maker of Clarity Defog It and a global optical leader in lens care and coatings. Millions of people around the world use Nanofilm products, including Clarity Clean It™ and other lens care products, as well as nanotechnology-enabled coatings.
# # #