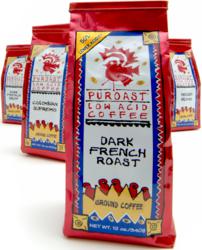 A classic comment we often get is 'it's great coffee so why have the acid if you don't have to'.
Woodland, CA (PRWEB) November 04, 2011
The upcoming holiday season brings with it the traditional gift giving, travel to see family, savory food, hearty beverages and – "holiday heartburn", that nasty reminder we've had too much of a good thing. But this year alongside antacids like Prilosec® and Nexium®, a new product, Puroast® Low Acid Coffee, may provide some relief this holiday season for those whose coffee is part of the holiday heartburn problem.
Puroast® is an all-natural, gourmet coffee that has up to 70% lower acid than the other leading brands. The company developed a method that reduces acid while providing the aroma and full-bodied flavor one comes to expect from a gourmet brew. And there is scientific research to back up both the pH level and customer acid response claims (http://www.puroast.com ).
The American Dietetic Association confirms coffee, along with chocolate, peppers, citric juices and alcohol, "can provoke heartburn" (http://www.eatright.org ). Dr. Shibamoto, a food chemist at the UC Davis Department of Environmental Toxicology, concludes "Puroast® shows acid levels by pH measure that average one third lower than those brands tested. Importantly the coffee does not use additives or substitutes to achieve the low acid level".
"Puroast® Low Acid Coffee is a great tasting, real-coffee option for people who've been advised to cut back on their daily brew", says Puroast® CEO Kerry Sachs, "and even for those who don't have heartburn, a classic comment we get often 'its great coffee so why have the acid'".
The company offers several different kinds of Puroast® Low Acid Coffee, Dark French Roast, House Blend, Decaf, Colombian Supremo along with classic Hazelnut, Vanilla and Chocolate Almond flavored coffees. Puroast® is found in the coffee and natural food sections of retailers including Walmart, Kroger, Giant, Food Lion, Publix, Hannaford, QFC and is available through Amazon.com and at http://www.puroast.com.
###