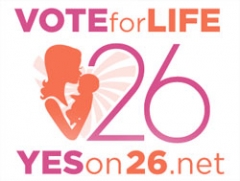 Science confirms that a person is a human being at the moment of fertilization.
(PRWEB) November 03, 2011
Included in the list of supporters is American Civil Rights leader John M. Perkins, author of "Let Justice Roll Down". Mr. Perkins has been outspoken in his support of Amendment 26. A video titled "Why Amendment 26 Matters to African-Americans" chronicling Mr. Perkins' support of Amendment 26 can be found at http://www.yeson26.net.
Mike Huckabee, former Governor of Arkansas, NY Times best-selling author, and radio and television host demonstrated his support of Amendment 26 by speaking at a campaign kick-off event which also featured Christian recording artist Mark Schultz and Deanna Favre, founder of Deanna Favre Hope Foundation and wife to NFL Quarterback Brett Favre.
Organizations including American Family Association, Liberty Counsel, Mississippi Baptist Convention, and Pro Life Mississippi have endorsed the pro-life amendment, and Family Research Council has bolstered the effort by defending it on MSNBC.
Pro family organizations and noted leaders are joined by an extensive list of pastors and physicians, including OB/GYNs, General Practitioners, Surgeons, and Neonatologists. The list is available at http://www.yeson26.net/amendment-26/who-has-endorsed-amdt-26/ .
"Science confirms that a person is a human being at the moment of fertilization. At that moment, we are fully human and fully alive," explained Dr. Freda Bush, Mississippi OB/GYN in a video for Yes on 26. "…let's welcome and protect all mothers and babies, without exception."
In addition, Amendment 26 is in the unique position of being championed by both Republican and Democratic candidates in Mississippi's 2011 election cycle, including both candidates for Governor, both candidates for Attorney General, and many candidates for Senate and House of Representatives.
Senator Roger Wicker, Representative Alan Nunnelee, and Representative Greg Harper recorded a video in support of Amendment 26, along with a video from Representative Steven Palazzo, both of which can be viewed at http:/http://www.youtube.com/yeson26dotnet.
Lieutenant Governor and Republican Gubernatorial Candidate Phil Bryant Co-Chairs the Yes on 26 Advisory Board with American Family Association President Don Wildmon.
Democratic Gubernatorial Candidate Johnny DuPree has also endorsed Amendment 26.
"I have never seen a prolife effort receive such broad-based, bipartisan support," observed Keith Mason, President of Personhood USA. "It is really astonishing to see how many Mississippi pastors, doctors, lawyers, and politicians - both Republican and Democrat - support Amendment 26. The people of Mississsippi have worked extremely hard to put Amendment 26 on the ballot, and they have worked just as hard to spread the word that Amendment 26 is the best way to vote prolife."
###