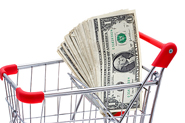 With the unemployment so high, the middle-market retail stores are suffering as consumers cut their spending and shop the lower-end retail stores like Wal-Mart and Target Corporation
New York, NY (PRWEB) November 03, 2011
Profit Confidential, the popular stock market and economic e-letter, says today that the stock price action of Wal-Mart Stores, Inc. confirms that U.S. economic recovery is muddling along…with low-end retail sales actually rising.
According to Profit Confidential, "If we look at Wal-Mart's stock today, we see it is pennies away from breaking to a new price high for 2011. Wal-Mart's benchmark stock is telling us that retail low-end retail sales are good in America. Why wouldn't they be? With the unemployment so high, the middle-market retail stores are suffering as consumers cut their spending and shop the lower-end retail stores like Wal-Mart and Target Corporation."
For technical analysis junkies, Profit Confidential says that Wal-Mart's stock hit a high just under $65.00 a share in the first quarter of 2002, the peak in a classic head-and-shoulders pattern. In the fourth quarter of 2008, Wal-Mart's stock made a run at its price high, but failed. The first shoulder was formed, according to Profit Confidential. Now, the stock's making a second run at its price-high, which Profit Confidential believes will also fail.
Michael Lombardi, a lead contributor to Profit Confidential, writes, "The action of Wal-Mart's stock falls squarely in with the economy and my bear market prediction. The Dow Jones Industrial Average has been in a bear market since March of 2009. We won't break to new stock market highs with this rally, but we will get high enough to lure more investors back into the stock market, which is exactly what the bear wants."
Profit Confidential, which has been published for over a decade now, has been widely recognized as predicting five major economic events over the past 10 years. In 2002, Profit Confidential started advising its readers to buy gold-related investments when gold traded under $300 an ounce. In 2006, it "begged" its readers to get out of the housing market...before it plunged.
Profit Confidential was among the first (back in late 2006) to predict that the U.S. economy would be in a recession by late 2007. The daily e-letter correctly predicted the crash in the stock market of 2008 and early 2009. And Profit Confidential turned bullish on stocks in March of 2009 and rode the bear market rally from a Dow Jones Industrial Average of 6,440 on March 9, 2009, to 12,876 on May 2, 2011, a gain of 99%.
To see the full article and to learn more about Profit Confidential, visit http://www.profitconfidential.com.
Profit Confidential is Lombardi Publishing Corporation's free daily investment e-letter. Written by financial gurus with over 100 years of combined investing experience, Profit Confidential analyzes and comments on the actions of the stock market, precious metals, interest rates, real estate, and the economy. Lombardi Publishing Corporation, founded in 1986, now with over one million customers in 141 countries, is one of the largest consumer information publishers in the world. For more on Lombardi, and to get the popular Profit Confidential e-letter sent to you daily, visit http://www.profitconfidential.com.
# # #