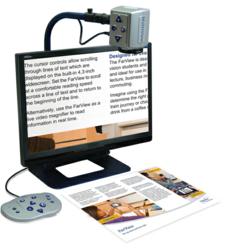 "We all share a mutual goal, and that is to help these children make the most of their remaining vision, regain their childhood independence, and improve their quality of life."
Chicago, IL (PRWEB) November 03, 2011
Optelec, Spectrios Institute and Sight Savers America donate assistive technology to help children see things they never dreamed possible
For the second year a unique three-way coalition is providing life changing vision aids to underserved and underprivileged visually impaired children in the Chicago area on Thursday, November 4. These children, ages 7-16, have severe vision impairments such as Aniridia, Rod-Cone Dystrophy, Nystagmus, Ocular Albinism and other conditions contributing to vision loss. Most of the children can be helped and their vision greatly impacted by placing highly specialized vision aids in their homes. This equipment is costly and is not covered by insurance. That's where the coalition steps in.
Coalition partners include Optelec U.S. Inc., a world leader in innovative and life changing assistive technologies for the blind and visually impaired; Sight Savers America, a nationally-expanding, not-for-profit organization that provides complete vision care for economically disadvantaged children; and Spectrios Institute for Low Vision, an organization which provides comprehensive visual rehabilitation programs. The strength of this unique coalition lies in partnering for profit companies with nonprofit organizations with similar missions, allowing all three partners to fulfill their shared goal of helping children achieve the best vision-services possible.
With that goal in mind, Spectrios has identified seven children who are ideal recipients for assistive technologies for the blind and visually impaired. Optelec is donating several MultiView electronic video magnifiers capable of enlarging objects up to 79 times their original size with multiple high contrast viewing modes, and Sight Savers is coordinating the event, donating some of the equipment, overseeing the training on use of the aids, and providing extensive follow up services to the children and their families.
Spectrios and Sight Savers' staffs will train the children and their families on how to use the electronic video magnifiers after which the children are able to take the products home to keep. Optelec's President, Stephan Terwolbeck, and one of the Authorized Optelec Dealers for the State of Illinois, Magnified Vision, will also be on-site assisting with product training. All of these services are provided free of charge.
"We value lasting relationships with the kids we help," said Jeff Haddox, Sight Savers America President/CEO, "Therefore, we have an extensive follow-up program and check in with them until the child's 19th birthday. We owe a huge debt of gratitude to Spectrios for working with us to identify the children who need our help and to Optelec for donating this life changing equipment. We all share a mutual goal, and that is to help these children make the most of their remaining vision, regain their childhood independence, and improve their quality of life."
According to Optelec President Stephan Terwolbeck, "This unique partnership allows us to reach and help children who otherwise would not have immediate access to this type of technology and we are pleased to continue our ongoing partnerships with Sight Savers America and Spectrios Institute. Optelec's electronic video magnifiers will provide the children a means to stay connected with their family and peers. They will now have the capability to do things like reading a book or doing their homework on their own which is so important at such an early age."
The donation of the Optelec Electronic Video Magnifier will take place on Nov. 4 from 10:00 a.m. - 2:00 p.m. in conjunction with the EnLIGHTen Low Vision Conference, sponsored in part by Spectrios. The conference, held during ATIA Chicago, will provide participants an opportunity to learn from doctors and professionals who are highly regarded in their field.
About Optelec U.S. Inc.
Optelec U.S. Inc. was founded in 1985 and is recognized as the worldwide market leader in providing innovative solutions for the blind, visually impaired, and learning disabled. Optelec reaches out with simple and effective low vision solutions for the home, school, work and on the go. Designed to maximize remaining sight for those with low vision, Optelec's products enable users to improve their quality of life, independence and mobility. For more information, visit http://www.optelec.com and follow @Optelec on Twitter, Facebook and YouTube.
About Sight Savers America
Sight Savers America is a non-profit organization spreading the gift of sight to disadvantaged children, currently throughout Alabama, Mississippi, Louisiana and Georgia and is expanding into California, Illinois, Texas, and Florida. Sight Savers provides technologically advanced sight-enhancing devices for children with low vision and for those who are blind. In coordination with a network of over 1,000 volunteer eye care professionals, Sight Savers America also purchases necessary treatments from eye glasses to surgery to advanced vision aids at no cost to eligible families. The Sight Savers personal case management eye care service has become the benchmark for the industry. For more information, visit http://www.sightsaversamerica.org. Follow SSA on Facebook and Twitter.
About Spectrios Institute for Low Vision
Spectrios Institute, formerly Deicke Center for Visual Rehabilitation, is a unique organization providing a comprehensive visual rehabilitation program that includes a low vision evaluation, counseling, and teaching the skills of daily living and the use of technology. In addition, Spectrios Institute evaluates new methods and technology for aiding people with low vision and trains eye doctors in the highly specialized field of low vision care. Spectrios Institute is led by founder Dr. R. Tracy Williams, a recognized national leader in the field of low vision. For more information, visit http://www.spectrios.org.
MEDIA CONTACTS:
Linda Long
Sight Savers America
(205) 991-4881 (office)
(205) 260-9898 (cell)
llong(at)sightsaversamerica(dot)org
Courtney Berg
Optelec U.S. Inc.
(760) 650-5502 (cell)
cberg(at)optelec(dot)com
###