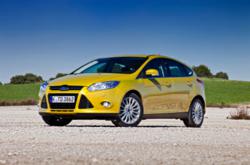 Jacksonville, Florida (PRWEB) November 03, 2011
At Mike Davidson Ford in Jacksonville, FL the new 2012 Fords are arriving to kick off the start of the new year's automobile sales early, giving consumers a preview of what's to come, and the response is enthusiastic. The Mike Davidson Ford team is making room on the lot to accommodate these all-American vehicles gearing up for what's sure to be a busy sales season as the economy begins to creep forward. All of the releases in Ford's all-star lineup are available this year with the optional Sync with MyFord Touch, the enhanced hands-free calling and audible text messaging communications system that includes a host of multiple features, making a new Ford in Jacksonville an even more attractive buy. From the 2012 Taurus to the Escape to the Fiesta, Focus, Fusion, and Mustang on over to the SUV and Crossover classes of vehicles to the F-Series trucks, all of these great vehicles are streaming in. The Mike Davidson Ford dealership in Jacksonville is currently the # 1 Ford dealer in volume and intends to keep it that way. Whether looking for a new Ford in Florida or used cars in Jacksonville Mike Davidson Ford has it covered.
This is a full-service dealership offering more than just new and used Fords. There are many different makes and models to choose from available for purchase in this top-rated Florida dealership. If a consumer is looking for a used Honda in Jacksonville or a used Chevy in Jacksonville there is a vast inventory to choose from. The dealership encourages its customers to come in and take a test drive in a vehicle of their choosing. For those customers that prefer to do their preliminary comparison shopping online from the comfort of home, Mike Davidson Ford offers an online showroom with online sales specials to entice shoppers and to make their car buying experience even easier and more convenient. This is essential in today's fiercely competitive new car and truck and used car and truck market. Once a customer has found something of interest, all that is required is to go down and inspect the vehicle in person and test drive it. It's just that simple. And for those customers that qualify, there are great financing deals and interest rates available as well.
Some of the other features of this full-service dealership is the availability of on-site repairs in the service department with high quality new parts in stock for most makes and models to further facilitate a convenient one-stop-shopping experience. Consumers can know with confidence that all inspections and repairs are being made by highly trained, certified technicians that care about the quality of their work and the safety of their customers. Even consumers who have not purchased a vehicle from Mike Davidson Ford are encouraged to bring their vehicle in for servicing, estimates, and repairs. Customer satisfaction is a top priority and leads to customer loyalty, something that Mike Davidson values and wants to continue. The friendly and knowledgeable sales staff and support team are there to help in any way possible to ensure that every experience a customer has at this dealership is a positive experience and continue to strive for excellence. At Mike Davidson Ford in Jacksonville, Florida the customer is # 1.
###