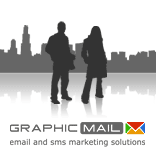 GraphicMail's recent launch of its new editor has opened a new dimension to the previously, somewhat limited, process of newsletter building.
(PRWEB) November 04, 2011
In its constant strive to make email marketing easy and accessible, GraphicMail reaches a milestone with this new, simple–to-use yet powerful newsletter editor. Most small business owners who use email marketing are not familiar with HTML, let alone have the time to search for images and create layouts for their mailings. GraphicMail's editor makes it easy to select tried & tested templates, edit text inside images and apply your own branding to the layout via a simple color-picker.
GraphicMail conducted a survey in August 2010, which revealed that a mere 21% of its clients HTML. Due to this, GraphicMail developed a new online editor which bypasses the need for any HTML expertise with more user-friendly tools. GraphicMail's 2011 Editor gives users features such as in-image editing, drag-and-drop elements and table editing. With the launch of this new editor, GraphicMail also simplified their newsletter creation menu within the application's dashboard, making it easier to produce newsletters from start to finish rapidly, and to manage and edit them on the go.
Users are able to drag and drop individual elements, and the on-board photo editor allows for the easy manipulation of images; with the ability to work in layers and change text within images. This feature is especially useful when developing email newsletters for multiple languages or for different segments in an opt-in email database.
With this newsletter editor; images, structure and branding all work beautifully to help email marketers create customized campaigns that authentically reflect their business profile or brand through a streamlined, flexible interface; luring their readers' attention more easily during those crucial first-look moments.
The 2011 Editor includes a host of new features and improved usability:

Drag & Drop functionality
On the fly image edit
Create and edit text inside images
Simplified interface
New easy template selection process
Access to 300 free templates
Templates are tested across all major email clients
This latest product development ties in with GraphicMail's ongoing drive to make its bulk email software more efficient and its user experience progressively easier, while keeping more advanced features powerful for sophisticated users.
"GraphicMail's recent launch of its new editor has opened a new dimension to the previously, somewhat limited, process of newsletter building. The 2011 Editor links a design editor, drag-and-drop and "code your own HTML if you know how" modes with a multitude of new, powerful editing features. The uniquely new-looking interface can be easily understood, allowing you to quickly get involved in multifaceted design processes." - AndrewGlenister, GraphicMail Systems Analyst.
About GraphicMail
Quattro Internet Solutions (Ltd) t/a GraphicMail is a hosted email marketing solution which lets users design beautiful emails, manage contact lists and track their campaign performance. GraphicMail has been used by customers such as, Europcar, the American Medical Association and SA Airlink since 2002. It is available in 10 languages and is represented by over 17 offices globally. Follow GraphicMail on Twitter, Facebook and their email marketing blog.
###