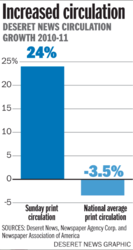 Salt Lake City, UT (PRWEB) November 03, 2011
The Deseret News, Utah's largest online and oldest continually published daily newspaper, today announced that its Sunday circulation grew 24 percent in 2011. Daily circulation at the Deseret News also increased modestly by 0.7 percent. In addition, the Audit Bureau of Circulations (ABC) September 2011 Report shows DeseretNews.com reaching 2.6 million unique visitors, exceeding any other newspaper website in Utah. The report also indicates that within the Salt Lake market area readership, DeseretNews.com grew by 26 percent over the past year. Separately, Hitwise shows DeseretNews.com visits and page views growing rapidly over the past year, expanding its lead over local newspaper website competition.
"Our research indicated that we could better serve our local and national audiences by filling a void in the media market with a focused, relevant voice on issues of importance to families, both here at home and across the nation," said Clark Gilbert, CEO and President of the Deseret News. "Our Utah readership wanted more than just local news from us, and they're showing their approval of our renewed editorial focus by consuming more of our product – even though print subscriptions are at an unprecedented low in the industry. And while we continue to grow at an above-industry average rate in our local market, we have been able to accelerate our overall growth by appealing to a national base of subscribers who are looking for that same editorial content. We still have a long way to go to reach our ultimate goals, but the traction we have gained locally, nationally, online and in print is encouraging."
After unveiling an innovative new direction for the newspaper in August 2010, the Deseret News implemented several new initiatives that have supported its growth. At the heart of the paper's strategy is a specialized focus of resources on areas of editorial emphasis underserved by most other news media: Family, Financial Responsibility, Excellence in Education, Care for the Needy, Values in the Media and Faith in the Community.
"As we looked to the future and analyzed readership research, we identified these six key areas where we could be the best – both in our local market and on a national level," said Gilbert. "In an era of scarce resources, when many news beats are being scaled back, we've made a financial investment in producing in-depth investigative reporting in our target editorial categories. We recognize that there is a market demand for these topics that has been overlooked in the industry. Both online and print consumers are responding enthusiastically to our content, and there's a continued growing demand for our traditional areas of leadership in sports and local news."
In addition to increasing its editorial focus, the Deseret News has successfully implemented Deseret Connect (a group of carefully vetted story contributors), built a broad, national Editorial Advisory Board and expanded its Utah-based news reporter base through professionals currently working with sister company KSL Television and NewsRadio.
As part of the paper's continued national expansion, the Deseret News began selling its Sunday Edition in all 50 of the United States in September 2010, along with the Church News, the official newspaper of The Church of Jesus Christ of Latter-day Saints.
About the Deseret News
The Deseret News (pronounced De-se-RET) is Utah's largest online and oldest continually published daily newspaper. The publication is a trusted source of local and national news serving a growing global audience. Other publications of the Deseret News include the Church News, Mormon Times and El Observador. Deseret News is a part of Deseret Media Companies. For more information visit http://www.deseretnews.com.
# # #