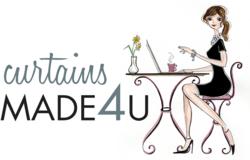 "Layers of fabric trap air, and this is why interlining is so effective. It can keep you from turning up the heat this winter," notes Julie Morris, director of the new online venture Curtains Made4U.
Kennett Square, PA (PRWEB) November 04, 2011
Custom Curtains Save Energy, Cut Heating Costs—and Transform a Room
Learn how to save up to 15% on your heating bills this winter with tips from the professionals at CurtainsMade4U.
Stop drafts and prevent heat loss at the windows by adding interlining to custom-made draperies, now available online at CurtainsMade4U, a newly launched sister division of Calico Corners. Few online or catalog sources of curtains offer true custom sizing—and even fewer offer interlining or blackout lining options.
What's interlining? It's a flannel-like fabric, never seen because it's sandwiched between a decorative fabric and the lining, creating three layers of defense against cold and heat. "Layers of fabric trap air, and this is why interlining is so effective. It can keep you from turning up the heat this winter," notes Julie Morris, director of the new online venture CurtainsMade4U.
"These linings were added to the CurtainsMade4U menu so that consumers could have linings that add lush fullness and are energy efficient as well," states Morris. "Interlining also makes your draperies look fabulous!" she adds. "It adds a sumptuous quality, like a fabulous ballgown that is supported by tulle and lace petticoats beneath."
Most homeowners would be shocked to learn that as much as 40% of the heat that escapes a home in winter is lost through the windows. Custom curtains are among the most effective window treatments to keep warm air from leaking out of a house. "They are made to fit the window exactly," notes Morris, "Custom curtains can be made to overlap in the center and with returns that hug the wall for a snug fit around the window." Air pockets between the layers create degrees of insulation--the more layers, the more warmth.
The advantage of layered window treatments is that they can be opened and closed to allow sunlight to generate warmth, continues Morris. "Why do we feel cold in bare-window rooms in the winter? Because our body heat radiates to these cold surfaces. Window treatments make us feel more comfortable without turning up the thermostat."
Each layer at the window has an R-Value, which measures the ability of a product to resist heat flow. The higher the R-Value, the more effective that product is at insulating and reducing loss of warm or cool air. "As window treatments are added, R-Values keep increasing," explains Morris. "With two or three layers, they add up to real energy savings."
Layer 1: Shades are a good start
Shades mounted inside window moldings are the first line of defense to minimize air convection. Custom-made fabric shades (flat roman shades, London shades, balloon shades) will fit perfectly and can be made with thermal linings. Roller shades will help a little, but they are just a single layer at the window. Pleated cellular shades are a good alternative as they trap air within the honeycomb pockets of the shade so less air escapes through the glass. The more opaque the cellular shade, the higher the R-Value. Some shade styles have double cells, further increasing the layers of trapped air. "So if you have shades mounted inside your window frame, keep them. If you don't, our sister division, Calico Corners - Calico Home offers a variety of custom-made shades," offers Morris.
Layers 2-3-4: Draperies over shades are a better solution.
Adding lined floor-length draperies over shades adds further insulation. Draperies can add up to three layers of warmth to your windows: the face fabric, the lining, and an interlining in between the face fabric and the lining. Drapery panels should return to the wall, fit tightly and overlap in the center for maximum efficiency. This solution creates three trapped air spaces—and each one increases the level of insulation. Draperies should be floor-length for energy efficiency but should not block heat or air registers.
A Short Lesson on Linings
The room darkening lining and interlining offered with CurtainsMade4U products have special features and finishes to increase insulation. Room darkening lining, also known as "blackout lining," contains several layers of aero-cellular acrylic foam. The layers provide excellent thermal insulation and help block light and noise as well.
Interlining enhances lightweight silks and drapery fabrics, adding body and shape retention. "Interlined draperies have heavier pleats and additional fullness in the folds, creating a more luxurious finished look," states Morris. "They have the greatest resistance to sun and moisture damage. In addition, interlining can baffle noise and provide a high degree of thermal insulation, really kicking up the R-Value."
CurtainsMade4U offers high quality custom-made curtains at prices frequently below ready-mades, with more than 500 designer fabrics from which to choose. Expert decorating advice is also available for those dealing with challenging windows. Custom curtains can be made for windows up to 13½ feet wide and up to 15 feet long. For more information, visit curtainsmade4u.com or call 888-99-Made4U (888-996-2334).
Contact: Jan Jessup
(610) 444-9700, Ext. 262
info(at)itsmade4u(dot)com
###