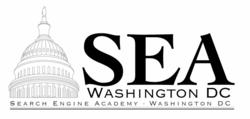 "I'm excited to be part of this summit. Veteran employment is a passion with me. I'm a U.S. Army vet, and I remember how overwhelmed I felt way back when, getting discharged and wondering what the heck I was going to do with my life."
Washington DC (PRWEB) November 08, 2011
The MILCOM 2011 International Conference and Homeward Deployed's "Summit to Create a National Community-Based Model for Veteran Transition" is on Wednesday, November 9 2011 at the Baltimore Convention Center, Baltimore, MD.
Search Engine Academy Washington DC (SEA DC) is attending the Veteran's Transition Conference to learn more about the educational and career needs of active duty military personnel transitioning back to civilian life, as well as introduce attendees to the career possibilities of being a Search Engine Optimization (SEO) specialist.
"I've developed an SEO Work Study Program, and this is a great opportunity to introduce it to folks who are transitioning from active duty military status to civilian, and many of our wounded warriors, vets and active military women and men don't know what they're going to do for a living. I want to help veterans open up to the possibility of getting trained and certified to be SEO specialists and consultants," said Nancy E. Wigal, the owner and operator of SEA DC.
SEA DC offers a five day SEO Comprehensive Mastery training and certification course that is geared towards individuals who want to learn the latest SEO techniques and processes to work full time in search engine marketing. There are discounts for veterans who register to learn SEO.
One of the training modules on the last day is "Tips For The Professional SEO." The module shows attendees how to identify target markets to approach and establish relationships with prospects to convert them into paying clients.
"I've taken this module a step further by creating and offering for no additional cost my SEO Work Study Program. I show participants the basics of how to set up their SEO business, such as getting a business license, picking an accountant, getting business cards and setting up their SEO business website. I also give them some real-world experience by practicing on live web pages," according to Nancy.
The work study program is approximately three to four months long. Participants must establish and complete goals during the program, including approaching prospects, analyzing websites for the depth of SEO work required, writing up a proposal and creating an SEO services contract.
"It's not enough to teach folks how to be SEO consultants and specialists. For those who want to do this on a freelance basis, but have never started a business on their own, it can be really overwhelming. I'm trying to give them the benefit of my own lessons learned and show them it can be done. It's a lot of work, but since SEO is a growing career field, anyone who has the passion and motivation for doing SEO as an independent consultant can succeed, given time," Nancy said.
Search Engine Academy training is face to face, eight hours per day. Attendees should bring an internet-ready laptop to do online work. All course materials are provided by SEA DC, and an online exam is administered at the end of the training. Students must score 76% or better to pass the exam and be certified in search engine optimization and marketing.
This year's event is sponsored by AFCEA, and is in conjunction with MILCOM 2011. According to Homeward Deployed, the summit is designed:
To educate about the transition needs of OIF-OEF veterans, Guard, and Reserve as well as critical gaps in the system
To explore the three Resilience Pathways to economic self-sustainability for veterans, Guard, and Reserve: Education, Employment, and Entrepreneurship
To create national collaborative working groups around each of the three Resilience Pathways
To engage regional community leaders and partners in participating in this coordinated model
Veterans, active duty military, retired military personnel who are looking for career options to transition to as civilians will be interested in learning more about SEO training through SEA DC. Spouses and dependents are also welcome to learn more about training for a new career as an SEO specialist.
"I'm excited to be part of this summit. Veteran employment is a passion with me. I'm a U.S. Army vet, and I remember how overwhelmed I felt way back when, getting discharged and wondering what the heck I was going to do with my life. If I can provide help for veterans to figure out a new career, that's a good day for me!" said Nancy.
SEA DC is part of Search Engine Academy, founded in 1999 by John Alexander and Robin Nobles. Search Engine Academy has SEO training locations across the United States and Canada, as well as Australia and Malaysia.
###