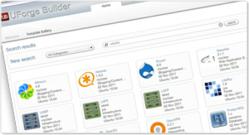 ''UShareSoft's technology means our customers will be able to instantiate full applications stacks in minutes, instead of just base OS images.'' Raphaël Ferreira, CEO, eNovance
Cloud Expo West (PRWEB) November 07, 2011
UShareSoft, provider of a cloud template factory, today announced UForge Gallery, the industry's first multi-OS, multi-cloud dynamic template store. A major new addition to the company's UForge for Cloud Providers suite, UForge Gallery enables hosting providers to offer an on-demand app store and scale their cloud services business through: flexible customer onboarding; "build-to-order" managed services; and a thriving ISV ecosystem. UShareSoft is showcasing UForge Gallery on Booth #423 at Cloud Expo West.
The company also announced that UForge for Cloud Providers has been chosen by European cloud provider, eNovance, for its newly launched OpenStack public cloud.
UForge for Cloud Providers models and maintains software stacks as cloud server templates and automates the build and publish of virtual machines (VMs) to cloud. UForge Gallery now adds sharing and collaboration features and a dynamic template gallery. It allows hosting providers to offer customers all the advantages of an on-demand app store, with the added benefit that users have complete flexibility to customize templates to their own individual requirements.
"We've just launched the first European public cloud based on OpenStack in beta and UShareSoft's technology means our customers will be able to instantiate full applications stacks in minutes, instead of just base OS images," said Raphael Ferreira, CEO, eNovance. "We've also been able to elevate our conversation with customers to applications and services, rather than discussing servers, VMs and infrastructure."
With UForge Gallery, hosting providers, and their customers and partners, benefit from:

Self-Service Customer Onboarding: Hosting providers can deliver a self-service gallery of home-grown or third-party server templates, which end users clone then edit and customize with their own components before publishing directly to the provider's cloud. End users thus retain full control and governance over software deployed in the cloud.
Channel empowerment: Re-usable, editable server templates mean hosting providers can easily empower channel partners, such as value-added resellers and system integrators, to offer fully customized cloud solutions for their own customers.
Dynamic ISV Ecosystem: UForge Gallery delivers a social platform for sharing and collaboration among ISV partners and end user customers, easily scaling to hundreds or thousands of templates on the store. ISVs can re-use the hosting provider's base OS templates, customize with their own application or middleware then monetize through the store on a pay-per-use or other model.
"Build-to-Order" Managed Services: With UForge Gallery, hosting providers can offer managed services on the fly to drive incremental revenue. End users can request the addition of paid management, monitoring, support or other services to any template. UForge will automatically add the necessary agents, drivers and other packages before the software is deployed.
"Cloud computing is all about self-service; we're taking that to the application level, unlocking customers with control and governance," said Alban Richard, CEO, UShareSoft. "With UForge Gallery, cloud hosting providers can build and nurture a thriving software ecosystem, providing a much faster return on investment for their infrastructure."
UForge for Cloud Providers Availability
UForge for Cloud Providers is available immediately in three versions:

UForge Starter, a generator of OS VM servers offering over 100 OS templates
UForge Factory, a multi-tenant factory for building cloud server templates and VMs with full software governance
UForge Gallery, a multi-OS, multi-cloud dynamic template store
About UShareSoft
UShareSoft enables automated software delivery and full software governance for the cloud. UShareSoft's UForge is a self-service factory for creating and maintaining software images and templates on any OS for any cloud, virtual or physical format. UForge enables customers to quickly build custom VMs or self-deployable, multi-tier Elastic Appliances; easily migrate applications to the cloud; or deliver "build-to-order" OS and cloud server templates. UShareSoft tools are helping hosting providers, ISVs and enterprises in their transition phase to the cloud. Visit http://www.usharesoft.com.
###