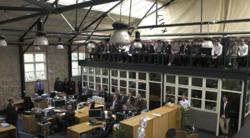 Woking, Surrey (PRWEB UK) 8 November 2011
On 4th November 2011, SAV Systems celebrated the official opening of its Low Carbon Technology Centre in Woking with a highly successful Open Day, which included interactive workshops,CPD Seminars and a District Heating Symposium which brought state of the art green technologies.
During the day, around 80 international specialists in energy solutions for the building services industry were able to find out more about the company's CHP Systems, FlatStation district heating systems, HVAC commissioning and distribution solutions - see them in action.
As part of the launch ceremony, Ebsen Mortensen of the Danish Energy Industries Federation and Bjarne Bogner of EC Power explained how many of Denmark's energy-saving initiatives are now being applied to reduce carbon emissions in UK projects through SAV Systems' products and expertise. These include LoadTracker CHP, FlatStation Heat Interface Units, FloCon commissioning modules, WatchMan energy meters and a range of other innovative products to optimise energy efficiency.
SAV is the sole UK distributor of Danfoss district heating systems and SAV Systems' Sales Director Jan Hansen explained how the companies are working together to reduce flow temperatures in district heating systems and therefore exploit low carbon heat sources more effectively.
The official opening presentations were concluded by Chris Parsloe of Parsloe Consulting, explaining the recent changes made to CIBSE Code W and the BSRIA Commissioning Guide.
The SAV Low Carbon Technology Centre incorporates all of the company's products in its HVAC systems and a series of hands-on workshops enabled delegates to fully understand how the systems interact. The day concluded with CIBSE accredited CPD Seminars, covering LoadTracker CHP, FlatStation HIU heat exchangers and HVAC solutions, including commissioning systems with ultra-low flows. For further information visit http://www.sav-systems.com
About SAV Systems
SAV Systems is one of the UK's leading specialists in innovative eco friendly building services solutions, including cogeneration (CHP), district heating, HIUs, HVAC distribution manifolds, commissioning modules, manifolds, energy metering equipment and flexible piping. SAV works in partnership with key suppliers such as EC Power, Danfoss and FAR to innovate in all of these areas, with a view to improving energy efficiency while reducing carbon emissions and cost of ownership.
###