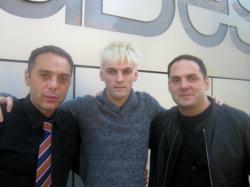 Manhasset, NY (PRWEB) November 03, 2011
Performer Aaron Carter visited nuBest salon and spa on Wednesday, November 2, 2011 in preparation for his debut in the revival of the Broadway musical "The Fantasticks." Creative Director Jamie Mazzei and Color Director Christian Fleres created a new look for Carter, who is set to take the stage next Monday November 7th, 2011 at the Snapple Theater Center in NYC. For tickets please visit Ticketmaster.com.
For Aaron Carter:
Marilyn Lopez
Marilyn PR
Mlopez(at)marilynpr(dot)com
About nuBest salon and spa:
For over 39 years nuBest salon and spa has been the beauty destination for fashionable people who want to look and feel their best. Michael Mazzei and his staff of over 125 beauty professionals provide world-renowned services including; hair design, hair color, skin treatments, make-up application, nail services and waxing, all in a cutting edge space of over 20,000. sq. ft. Michael and his son Jamie, and nephews Vincent and Christian are proud to be an integral part of the beauty community and look forward to continuing their tradition of creativity and excellent service. nuBest salon and spa is located at 1482 Northern Boulevard, Manhasset, NY 11030. Please visit our website at http://www.nubestsalon.com.
For more information regarding nuBest salon and spa, please contact Richard Piana @ (516) 365-4670 or richard(at)nubestsalon(dot)com.
# # #