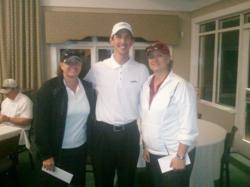 "Concentration is the ability to think about absolutely nothing when it is absolutely necessary." Ray Knight
Rockville, Maryland (PRWEB) November 05, 2011
CONGRATULATIONS to all winners and THANKS to all clients and guests for supporting this tournament
Closest to the Flag #4 Joe White
Closest to the Flag #8 Stacy Palmer
Closest to the Flag #11 Stacy Palmer
Closest to the Flag #14 Tom Rawson
Long Drive (Members) Paul Crombie
Long Drive (Guests) Stacy Palmer
Putt-Putt Bobby Sheahin
Net Runner-Up Tom Rawson & Gerard Phillips 65*
Gross Champion Karl Warner & Joe White 66
2011 MG Champion Michelle Liver & Stacy Palmer 63*

Golf Swing Myth: The farther you swing the club back the farther you hit the ball.
Everyone believes that a bigger backswing results in more distance. This has been made famous by big hitters like Jamie Sadlowski, John Daly, and Dustin Johnson. One thing to know about these golfers is that these guys are great at hitting the ball on the center of the club face, with the length of their backswings they are able to optimize club head speed and control. The average golfer can not do this! The club shaft does not have to be at parallel to the ground or longer at the top of the swing to gain more distance. If your equipment is fitted properly and your technique is sound the one remaining factor to improving your game is taking a look at the one piece of equipment you have complete control over, your own body. So remember you don't have to swing the club back past parallel in your backswing. If your body is not conditioned to swing that far it will result in a bent left elbow at the top and inconsistent ball flight results. Remember, if the elbow is bent at the top you may have a physical limitation that could create wear and tear on joints that are working improperly resulting in pain and poor golf scores.
Golf Swing Truth - Custom Club Fitting - 60 minutes of tour level custom club fitting helps find your true distance and control advantage.
Golf Swing Truth - making swing changes during the winter - winter is the best time to make swing changes because your not playing as much and able to focus more on technique versus the ball flight when you play. Your best bet is an individual golf lesson with a PGA pro at GolfTEC North Bethesda to identify areas for improvement and a plan to meet your goal for next years golf season. As the undisputed leader in golf improvement, GolfTEC teaches 20% of all U.S. golf lessons annually and delivers a consistent 95% success rate. Call 240-715-0291 to purchase a lesson or talk to a PGA pro.
###