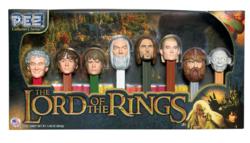 Orange, CT (PRWEB) November 05, 2011
PEZ Candy, Inc. today announced that the highly anticipated PEZ Lord of the Rings Collector Set has begun to ship to national retailers and is available on the company's website, http://www.pez.com. Each set is labeled with a gold sticker featuring its exclusive number in the production series.
The Lord of the Rings collector's set includes eight dispensers, each depicting key characters from the trilogy, and two six packs of candy. The characters include Bilbo, Frodo, Samwise, Gandalf, Aragorn, Legolas, Gimli, and Gollum. Those characters who are Hobbits are featured on mini dispensers. An additional, exclusive set featuring the Eye of Sauron was also developed. Both sets will retail for approximately $24.99.
"Collectible gift sets have been a growing part of our business. We expect Lord of the Rings to be among the best selling in our history," stated Joe Vittoria – CEO of PEZ Candy, Inc. "We are considering a second set focusing on key characters from The Hobbit for launch next fall."
About PEZ Candy, Inc.
PEZ Candy, Inc. is the pioneer of "interactive candy" that is both enjoyable to eat and fun to play with. PEZ Dispensers are a hot collectible for adults and children alike and have been a staple of American pop culture for over 50 years. To learn more, visit http://www.pez.com
If you would like more information about PEZ Candy, Inc., please call Keith Whitaker at whitaker(at)pezcandyinc(dot)com.
###