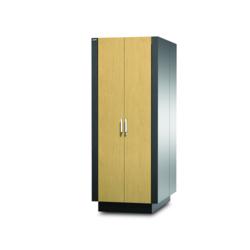 NetShelter CX solves the problem of housing and cooling IT equipment in offices
London, United Kingdom (PRWEB UK) 3 November 2011
The judging panel for the Channel Awards for Latin America have presented the coveted "Most Innovative Product of the Year" to APC by Schneider Electric for its NetShelter® CX Solution. Editors at Compuchannel, Digital Market and InfoChannel described NetShelter CX as "the first ever quiet server room in a box".
Held annually, the Channel Awards – Latin America are one of the most prestigious awards ceremonies within the region. Over 350 guests from a variety of computing backgrounds attended the 8th annual ceremony, which was held at the Hotel Fontainbleau, Miami Beach, Florida.
Over 40,000 technology enthusiasts from 20 Latin American countries participated in the event, casting votes via online tools and social networks, and raising the level of competition between the big and small companies who were in attendance.
The award winning APC NetShelter® CX cabinets are purpose designed to house computer servers and network equipment outside of the IT room, within offices or other environments. The cabinets have an integrated cooling supply to provide a stable environment which can improve the reliability of housed equipment. The units are stylish, high quality pieces of office furniture, fitted with heavy-duty castors for ease of portability and quick installation.
NetShelter CX cabinets are lockable for security, ventilated and sound-proofed to minimise noise disturbance in the work place –they reduce perceived noise by up to 90%. The units can be supplied and deployed in weeks rather than the months associated with dedicated server room space. They are built using a wood composite material, and are available in 18U, 24U and 38U sizes to provide exceptional compatibility, convenience and safety for network equipment.
For further information about the awards and a list other winners at the Channel Awards – Latin America, click here. For more details about the NetShelter CX range of computer cabinets, please visit the APC by Schneider Electric website by clicking here, or call 0800 2799254. For a 3D video tour of NetShelter CX, please click here.
About APC by Schneider Electric
APC by Schneider Electric, a global leader in critical power and cooling services, provides industry leading hardware, software, and services designed to ensure availability and higher energy efficiency across the residential, business network, data center, and manufacturing environments. Backed by the strength, experience, and wide network of Schneider Electric's Critical Power & Cooling Services, APC delivers well planned, flawlessly installed and maintained solutions throughout their lifecycle. Through its unparalleled commitment to innovation, APC delivers energy efficient solutions for critical technology and industrial applications. http://www.apc.com
# # #