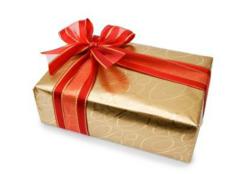 "We make a living by what we get, but we make a life by what we give."
- Winston Churchill
Washington, DC (PRWEB) November 04, 2011
Picking presents is hardly anyone's idea of a party. Every year millions of presents are exchanged, yet somehow choosing gifts only seems to get harder as time goes on.
This year, Reel Tributes has done the hard work. The company's team of expert gift-givers has come up with the 11 attributes that make for the perfect holiday gift.
For the 2011 season, the gift should:
1. Be fun to receive. Gifts should bring a smile to the face of the recipient. They should create an immediate impact. Think of the sight of a kid riding his brand new bike for the first time. The perfect gift brings that level of excitement to adults and children alike.
2. Be fun to give. The best gifts are the ones that you're proud to give. When was the last time you were excited to give dad a new tie? In the words of Leonard Nemoy, "The more we share, the more we have."
3. Provide long-term enjoyment. A gift's instant gratification doesn't mean the joy should be short-lived. On the contrary, a gift should create a lasting impact. The ideal gift is so meaningful that 5 years later, the recipient remembers not only what the gift is, but who gave it and the emotions they felt when it arrived. Think of the moment you received your first pet, and how it changed your life forever.
4. Bring people together. The holiday spirit is all about bringing family and friends together. Studies have shown that strength of relationships and amount of time spent with family are the keys to happiness. The best gifts create quality time with loved ones.
5. Be meaningful to the giver and recipient. Gifts that have a deeper meaning are the ones that create the biggest impact. Experiences are often more meaningful, and provide longer-lasting happiness, than material gifts.
6. Provide a great value. As gift givers, we want to know that we're getting a good value for the item we're buying, especially in today's economic environment. Ask yourself, "How much is this gift actually worth?" The answer should make the price tag seem irrelevant, or, in the case of the MasterCard commercials, "Priceless". Another question to consider: will the value of the gift appreciate or depreciate over time? The best investments are those that increase in value as the years go by.
7. Be high quality. It's often tempting to save money by buying a cheaper item. But less expensive doesn't mean better value. High quality gifts will last longer, perform better, and look nicer. Luxury daily deal websites offer high-quality gifts at a lower price—the perfect combination!
8. Involve some creative effort. Finding a great gift should be a labor of love. A perfect gift is meaningful in its creation, not just in delivery.
9. Be original. We've all asked the question, "What do I give the person who has it all?" The perfect gift allows the giver and recipient to realize that there's plenty more to experience and appreciate in this world.
10. Be personalized. The ideal gift could only come from you, and could only be given to that special someone. It's an extension of your relationship and strengthens the bond between giver and recipient.
11. Speak to the character of this holiday. What's unique about the 2011 holiday season? Every family will answer that question differently. Think about how you want this year to be remembered, and give a gift that is special for this particular holiday.
Hopefully this has sparked some ideas of the gifts that meet these attributes.
Looking for inspiration? One gift that meets all 11 attributes is a professionally produced family history documentary. This holiday season, celebrate the lives of parents or grandparents with a broadcast-quality film from Reel Tributes. Capture the stories, the laughs, and the memories in stunning high-definition. It's an investment that will only appreciate over time. And one that will be appreciated by the entire family today, tomorrow, and for many holidays to come.
About Reel Tributes
Reel Tributes produces high-end personal history documentaries that uniquely capture what matters most, from an individual's life story to an entire family's lineage to the successes of a family business. The company combines interviews, photographs, archival footage and music into artistic, television-quality documentaries. Reel Tributes' films are a perfect gift for Christmas, Hanukkah, and many other special occasions. Headquartered in Washington, DC, Reel Tributes travels to clients all over the world. Reel Tributes: the official sponsor of family spirit this holiday season. For additional information, and sample films, visit http://www.reeltributes.com.
Media Contact:
David Adelman, Founder and CEO
Reel Tributes
267-217-3355
adelman(at)reeltributes(dot)com
###