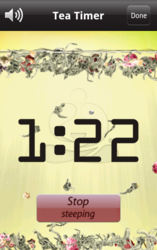 Atlanta, Georgia (PRWEB) November 03, 2011
Teavana, known for procuring the world's finest loose leaf tea, launches an Android version of its Perfect Tea Touch® app today. Designed for Android phones and tablets, the App brings the world of tea to your fingertips. The app includes information about all of Teavana's teas including the new teas just launched during our The New Taste of Luxury campaign. These 14 new teas are featured at the top of each category for easy access.
In addition to containing a wealth of knowledge on Teavana's fine teas, the App includes a musical tea timer, custom tea blender, Teavana store locator and the functionality to save your favorite teas and tea blends for easy reference or share your cup of tea with friends through email and social channels. The App also links seamlessly to Teavana's mobile site to shop for tea or tea blends.
The tea timer is both a musical and visual delight. With specific instructions for Teavana teas or blends and suggested brew settings, each tea type also has its own soundtrack that reflects the culture and harmony of the place where that tea is grown and harvested.
The store locator function uses the current phone location to find the nearest Teavana store including contact information as well as store hours. Using the Android's map functionality, the phone or device can quickly give directions to the nearest Teavana store. Since Teavana opens new stores each month, the app automatically updates to include the new store openings as they happen.
Whether a tea aficionado or a tea beginner, the Teavana Perfect Tea Touch app is a great resource to explore the world of loose leaf tea and craft the perfect cup. Including Teavana's most popular new tea, Citrus Lavender Sage, as well as favorites like Youthberry®, White Ayurvedic Chai®, and Jasmine Dragon Phoenix Pearls, it is a complete tea application. Look for it in the Android market today!
About Teavana:
Teavana is a specialty retailer offering more than 100 varieties of premium loose-leaf teas, authentic artisanal teawares and other tea-related merchandise through over 179 company-owned stores in 36 states and on its website. The company offers new tea enthusiasts and tea connoisseurs alike its "Heaven of Tea" retail experience where passionate and knowledgeable "teaologists" engage and educate them about the ritual and enjoyment of tea. The company's mission is to establish Teavana as the most recognized and respected brand in the tea industry by expanding the culture of tea across the world. Teavana Corporation is a subsidiary of Teavana Holdings, Inc. (NYSE: TEA).
# # #