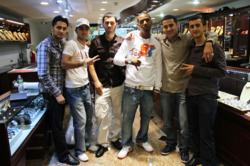 "We take a truly personalized approach to each and every client, because we know everyone has a distinct style or taste when it comes to expressing themselves".

-Ethan Storme, Avianne & Co Jewelers
New York, NY (PRWEB) November 04, 2011
Famed rapper Juelz Santana, longtime friend and family member of Avianne & Co. Jewelers dropped by this week to add to his collection of custom diamond pendant. The company's flagship store in the heart of New York's famed Diamond District is the one stop shop for artists and entertainers looking to purchase the finest jewelry in the industry. One can even embark on creating the wildest and most extravagant pieces with the company's notorious custom design team. The minds at Avianne & Co are constantly at work, dedicated solely to bringing any idea to life. Many companies claim to produce custom designs, however, only a handful across the globe, can attest to having an on-site factory for production. Avianne & Co. Custom Design Coordinator, Ethan Storme, said that "no other company can truly claim to oversee each and every step of production like Aviannes". A detailed conversation made clear that in regards to jewelry, only such a manner of production, can insure total satisfaction.
"We take a truly personalized approach to each and every client, because we know everyone has a distinct style or taste when it comes to expressing themselves.", says Ethan Storme, head of Custom Designs at Avianne & Co. This, statement stands as a testament to the relentless pursuit of perfection on behalf of Avianne & Co. Its roots in the jewelry industry are long and deep, and its focus on customer satisfaction is surpassed with each day of operation. For these reasons, as well as many others, celebrities, athletes, as well as your average joe, has been choosing Avianne & Co. for years to handle all of their jewelry needs.
When it came time for Juelz Santana to add another piece to his ever growing collection of fine diamond jewelry, the team at Avianne & Co jewelers got to work right away. Starting from scratch, they created a wax mold of the Diamond Jesus Pendant. The store is home to three world class model makers, who craft all the details and intricacies of the pendant into a wax mold prior to actual casting. This wax was then presented to Juelz, for final approval. Once the design was inspected and approved, Avianne & Co casted the mold into 14k Yellow Gold for diamond setting to take place. One thing to consider is the level of responsiveness and proactivity exhibited by Avianne & Co. at each stage of production. Each step of the process is thoroughly observed by both the customer and the family, to ensure 100% satisfaction.
Juelz Santana's custom Jesus Head Pendant, came together beautifully as you can see from the picture. The diamond pendant which weighs about 150 grams, is adorned with only the best VS quality diamonds. Juelz consistently chooses Avianne & Co. to be there for him when he does his thing. The Avianne & Co brand is there for their customers, when they do what they do best. For more Celebrity Diamond Jewelry, log on to http://www.AvianneAndCo.com.
# # #