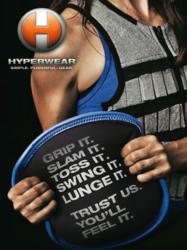 SIMPLE. POWERFUL. GEAR.
Austin, TX (PRWEB) November 04, 2011
Hyper Wear Inc. is excited to announce and display its new branding this week: SIMPLE. POWERFUL. GEAR. Hyperwear will be at two fitness industry events on both coasts. A result of the growth of its fitness equipment line from what Men's Health Magazine called the best weighted vest, the Hyper Vest PRO, to a family of innovative free weights filled with sand, steel and water, the SandBell, SteelBell and WaterBell, Hyperwear's re-branding captures the core of the company's values, and speaks to the broad range of consumers who are using its gear. From elite professional and university sports strength and conditioning programs, to health club group fitness, personal trainers, school districts adding the SandBell to physical education fighting childhood obesity, and women with osteopenia or osteoporosis wearing the Hyper Vest weighted vest to build bone density while walking, Hyperwear's fitness gear is helping people of all ages and abilities.
"Hyperwear has created simple products that are easy, natural, and safe to pick up, put on, grab, lift, toss, catch, or slam," said CEO Denver Fredenburg. "They let you move the way your body was intended to. While simple in design they are also powerful. Our gear packs an extremely dynamic punch by using more muscles and burning more calories with every movement. Enabling an unprecedented approach for working out and cooling down, Hyperwear combines some of the earth's most plentiful resources with a highly perfected set of rugged materials to create gear for all ages and all abilities."
Hyper Wear's products and fitness experts can be seen at both the American Council on Exercise (ACE) Symposium in San Diego November 3rd to 5th and Town Sports International's (TSI) Summit and Trade Show in New York City November 5th.
About us: Hyper Wear was founded to bring innovative products to market in the areas of fitness, health and wellness. Its innovative products include the Hyper Vest® PRO weight vest, Hyper Vest COOL™ ice vest for pre-cooling and recovery, SandBell® sandbag weights, SteelBell® steel shot filled weights, and WaterBell™ water filled weights. Men's Health Magazine http://www.menshealth.com described the Hyper Vest as "the best" weight vest, and the non-profit American Council on Exercise (ACE) awarded the Hyper Vest weight vest its highest five-star rating in an independent review http://www.acefitness.org . Hyper Wear's products have also been recommended by or featured in Real Simple Magazine http://www.realsimple.com, Life Time Fitness' Experience Life Magazine http://www.experiencelifemag.com , ESPN Rise, Muscle and Fitness, Men's Fitness, Women's Health, the Diet Detective, Dance You're A** Off television show, the L.A. Times, and Chicago Tribune. For more information on Hyper Wear, http://www.hyperwear.com or call toll free 888-460-0628.
###