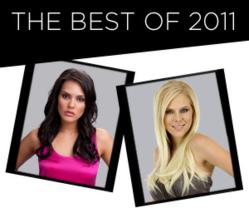 Many women come to the website, maintains Extensions.com, because they want longer, thicker hair.
Dallas, TX (PRWEB) November 08, 2011
Extensions.com is proud to unveil its Best Extensions of 2011. Launched in November, the anticipated 'Best Of' campaign showcases the website's most popular and top selling styles – from clip in hair extensions to volumizers and hairpieces. The Hair Professionals at Extensions.com say they want to make the customer shopping experience as uncomplicated as possible; so the campaign features the top products in the Best Of categories for Length, Volume, Trends and Value.
Many women come to the website, maintains Extensions.com, because they want longer, thicker hair. For customers who are new to wearing hair extensions or unfamiliar with the exact product they seek, the site spotlights 5 of the most popular clip in hair extensions. This Best Length category features a range of styles from the 20inch Remy human hair multi-piece extension system to styleable and synthetic one-piece extension systems. In the Best Volume category, customers will find both human hair and synthetic volumizers all designed with easy-to-apply pressure sensitive clips and in a variety of lengths and colors.
Among the top sellers is one of the newest additions to Extensions.com: the HD Heat Defiant Hair Collection by easihair. The brand's 5 piece easiXtend HD extensions system in both straight and wavy textures takes the cake for Best Value. Extensions.com also introduces a new category to its Best Of campaign: Best Trends. In this category, customers will find a variety of clip in hairpieces and hair accessories including Clip In Feathers by Mia, clip in color, bangs, and Wrap-Around ponytails which the site says are "always in style."
For each of these top sellers, visitors are able to watch exclusive how-to's and tutorial videos which show step-by-step instructions for applying and wearing each piece. Visitors will see products from some of Extensions.com's most well known brands like easihair, Put On Pieces, and Hairdo by Ken Paves and Jessica Simpson.
###