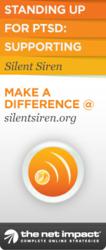 One of the greatest things is to see the hope these people have here. It is so inspiring to see people living through so much fear and devastation rise up and prosper.
St. Louis, MO (PRWEB) November 03, 2011
St. Louis organizations, The Net Impact web marketing company and Karla Smith Foundation take a step toward helping victims of Post Traumatic Stress Disorder (PTSD) as they assist with web development, web marketing and charitable outreach for Silent Siren founders, The Hill family.
Silent Siren, established as a program of non-profit organization Karla Smith Foundation, helps support soldiers and their families manage the traumas brought home from war. Living in Ottawa, Kansas, Gina Hill is founder of Silent Siren and the wife of wounded warrior, Staff Sergeant Allen Hill. SSGT. Hill is an Iraq War veteran who suffers from Post Traumatic Stress Disorder.
The Hill family deals with the daily struggles of PTSD but they don't let it get the best of them. They spend their time doing family activities, volunteering and talking to local emergency personnel to get the community involved and to raise awareness for Silent Siren.
Emergency Services such as police, fire and ambulatory services play a major part in spreading the word about Silent Siren. Silent Siren has created a logo for families to place in their windows to show that someone with PTSD lives in the home. Since individuals with PTSD may react differently, or even dangerously in emergency situations, the goal is that all emergency personnel will be able to immediately identify when they might be working with a person who suffers from PTSD.
As a result of the efforts of Bring Change 2 Mind, a partner organization of Karla Smith Foundation, the HIll family was nominated for and received an new home through Extreme Makeover: Home Edition. Karla Smith Foundation worked along side Bring Change 2 Mind during the week long build in August. The featured two hour episode focused on mental health will air November 4th, 2011 on ABC, 7pm CST Tune in to support the family and their hopes of conquering PTSD.
Since receiving their home, Gina Hill and her family spent some quality time on the Extreme Makeover build site in Joplin, Missouri. "It was incredible seeing the makeover process from both sides. I was stunned at how quickly things progress! One of the greatest things is to see the hope these people have here. It is so inspiring to see people living through so much fear and devastation rise up and prosper," said Gina Hill in a recent blog post.
SSGT. Hill and his wife Gina have worked closely with nationally renowned Bring Change 2 Mind and partner organization, St. Louis based Karla Smith Foundation to raise awareness for those who suffer from PTSD. Tom, Fran, and Kevin Smith founded The Karla Smith Foundation in honor of the memory of their daughter and sister, Karla. The Karla Smith Foundation (KSF) is a pathway for families who are suffering from similar illnesses to share their experiences, get help and find hope. Through support groups, education programs and awareness events, KSF brings hope to those are also affected by mental illness.
Karla Smith Foundation contacted The Net Impact to help promote the Silent Siren cause and assist with web development. The Net Impact designed and developed the Silent Siren website at http://www.silentsiren.org
About Silent Siren
Silent Siren offers support for soldiers and families of those with invisible wounds from war. Since 2007, the Hill family has been fighting their own battle against an invisible wound, Post Traumatic Stress Disorder. In 2011, they launched Silent Siren as a support system and a hope chamber for families with soldiers who suffer from similar illnesses. Silent Siren is raising awareness and bringing hope to families around the world. For more information about Silent Siren, visit http://www.silentsiren.org
About The Karla Smith Foundation
The Karla Smith Foundation offers support groups for family members of those with mental illness, support groups for families coping with suicide grief, peer-to-peer coaching, free education materials, public awareness events, a resource directory, and financial aid to family members and friends of those affected by mental illness and suicide. Since 2005, The Karla Smith Foundation has worked to combat the stigma of mental illness, and in 2009, partnered with the BringChange2Mind campaign co-founded by actress Glenn Close. For more information on the Karla Smith Foundation, visit http://www.karlasmithfoundation.org.
About The Net Impact®
The Net Impact, an Internet marketing and web development and design firm, is a division of Unidev®. Since 1997, The Net Impact has been a web development leader empowering clients with highly creative search engine friendly websites. Professional services encompass search engine and Internet marketing solutions, Internet strategy development, training and seminars and web design. For more information on The Net Impact, please visit http://www.thenetimpact.com, or call (636) 458-7772.
###