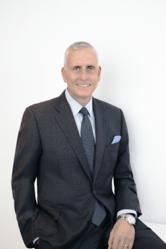 I have long believed that the success of any business or industry is largely a function of its ability to create a virtuous circle
Waltham, MA (PRWEB) November 04, 2011
TwoTen Footwear Foundation will welcome 1,300 guests to their 2011 Annual Dinner to be held on Wednesday, Nov. 30, 2011 from 6-10 p.m. at the Marriott Marquis in New York City, located in Times Square. The Annual Dinner raises funds for those in the footwear trade and recognizes industry luminaries who have contributed to furthering TwoTen's mission in substantial ways. This year's honorees include Peggy Kim Meill, who will be receiving the T. Kenyon Holly award, TwoTen's most prestigious honor for philanthropy; and Daniel L. Schwartz, Chief Executive Officer of Schwartz & Benjamin, who will be receiving the A.A. Bloom Award for volunteerism.
This year's Annual Dinner theme celebrates TwoTen as a virtuous circle. Wesley R. Card, CEO of The Jones Group, serves as the 2011 Dinner Chair."I have long believed that the success of any business or industry is largely a function of its ability to create a virtuous circle," says Mr. Card. "And by virtuous circle, I mean that every idea, person, and action builds on what came before it in a continuous positive circle – where good begets good on a very powerful, human level. TwoTen Footwear Foundation, and this gathering, are reminders that we are the most human of industries. And that our strength and success depends on the individual successes of so many people, from the stockroom to the boardroom - and the virtuous circle they create."
During the event three exciting travel packages will be raffled off, and raffle bracelets will be available for purchase during the cocktail reception. Raffle winners will be announced at the conclusion of the event and winners must be present to claim their prize.
Those interested in attending TwoTen's Annual Dinner please RSVP to Meghan Hoyle no later than Nov. 15 via email at mhoyle(at)twoten(dot)org or by calling 781.736.1528.
About TwoTen Footwear Foundation: TwoTen is committed to strengthening the footwear community with financial relief, scholarships, counseling support and referral services to shoepeople in need, while nurturing community building, mentorship and volunteerism within the industry. For more than 70 years, TwoTen continues to be the safety net for the shoe industry: last year alone, TwoTen awarded $1.65 million in financial assistance while serving 1,300 families in need. For additional information, visit http://www.twoten.org.
###