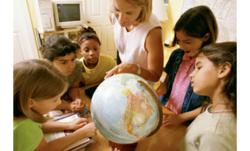 The internationals schools market doubled in size over the last ten years and will undoubtedly double again within the next ten.
(PRWEB) November 04, 2011
The International Educator (TIE), a leading resource in international teaching jobs, celebrates its 25th anniversary this month. TIE reports reaching a record number of subscribers last month with a 12% increase versus last October. "2011 is shaping up to be our biggest year yet," says Forrest Broman, President of the International Educator.
The International Educator serves as a link between teachers looking to teach in international schools and schools looking to hire teachers. Through its quarterly newspaper and website, TIE features hundreds of teaching and administrative jobs at international schools all over the world and keeps readers informed on the latest research, developments and best practices in international education.
TIE Experiencing Record Growth
TIE has seen consistent growth in the past 6 years among subscribers and schools using TIE to help staff their international schools. "Most of this is a reflection in the overall growth of overseas international schools, but it's also part of the downward trend in school districts' budgets across the country," says Mr. Broman. In the wake of massive layoffs in school districts across the U.S., teachers are finding their skills and experience can be put to good use as international schools around the world are experiencing rapid growth.
International Schools Big Business
International K-12 education is a big business, with annual income of approximately $27 billion dollars (US) a year, employing over 270,000 teachers and administrators. According to Nick Brummitt, Managing Director of ISC Research, a UK-based organization dedicated to analyzing, researching and tracking developments in the international school market, "The internationals schools market doubled in size over the last ten years and will undoubtedly double again within the next ten."
"Teachers are looking for opportunities that are no longer available in their home districts, and realizing that they can teach their subject in English and enjoy excellent benefits at top-rate private schools around the world," according to Mr. Broman, a former director of international schools in Latin America and the mid-east.
Established in 1986, TIE was created to build a network among the thousands of teachers and administrators who work at overseas international schools as a way to keep abreast on the latest developments in international education. Today TIE reaches over 50,000 subscribers in nearly 800 international and American overseas schools.
The International Educator (TIE), located in Hyannis, MA, is a non-profit organization that for 25 years has been dedicated to developing links among teachers and the extensive American and international schools network worldwide. TIE publishes a quarterly newspaper featuring the latest in international school news and developments for K-12 educators around the world. TIE's website, tieonline.com offers the widest selection of K-12 teaching and administrative jobs available anywhere in the world.
###