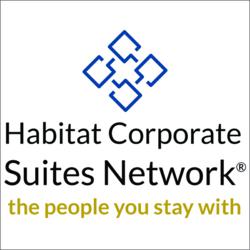 We want every guest to have a productive and enjoyable stay at Habitat Corporate Suites
Chicago, IL (PRWEB) November 08, 2011
Since 1987, Chicago-based HCSN has been leasing hundreds of spacious, comfortable, extended stay, fully furnished apartments throughout the Chicago area. The company's consistent excellent guest service has earned it no less than eleven CAMME (Chicagoland Apartment Marketing and Management) awards.
To help its guests experience Chicago like locals, HCSN is announcing an ambitious new social media program called HCSN Best Local.
There are two kinds of HCSN Best Local social media postings: Livin' La Vida Local and Good to Know.
Livin' La Vida Local postings include fun articles and videos that help guests skip the tourist traps and focus their free time on the best Chicago restaurants, bars, spas, shopping and more. For example, a Livin' La Vida Local posting might be a two minute video about a beloved Mexican joint on Clark or a cool "old school" concert venue in Uptown.
Good to Know postings are short, helpful blog postings and videos about how to solve real world challenges that HCSN guests face. For example, a Good to Know blog posting might answer the question: "Where are the nearest outpatient clinics and all night pharmacies near Presidential Towers (HCSN's flagship location in Chicago's West Loop)?" or, "What's the easiest way to take public transportation from the Iroquois Club (an HCSN location in Naperville) to downtown Chicago?"
"We want every guest to have a productive and enjoyable stay at Habitat Corporate Suites," explains Kathleen Elmendorf, Vice President of Sales, Habitat Corporate Suites Network. "We're all Chicagoland locals, and we know the best places to go that aren't on the tourist to-do list. We want to share our knowledge and make sure our guests feel like 'temporary locals' while they're here. HCSN Best Local enables us to do just that."
HCSN plans to expand the HCSN Best Local program to include marketing partnerships with HCSN Best Local merchants that would enable HCSN to provide its guests with exclusive money savings discounts and promotional offers. The company expects to start promoting HCSN Best Local offers within a few months.
"We're extremely excited about HCSN Best Local," says Elmendorf. "It's a unique program within our industry, and more importantly, it's a program that can help us deliver an unbeatable guest experience."
###