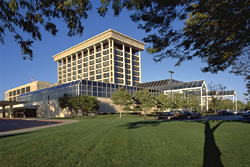 With this potential affiliation with Mercy Chicago, Trinity Health continues its commitment to strengthening Catholic health care in the Chicago area and across the nation.
Chicago, Ill. (PRWEB) November 03, 2011
Mercy Health System and Trinity Health (Novi, Mich.) have signed a non-binding Letter of Intent (LOI) that could lead to Mercy Hospital & Medical Center joining Trinity Health. The LOI provides a framework to begin the formal process of creating the operating model for the affiliation of the two organizations.
Together, Mercy Health and Trinity Health would continue the healing ministry of Mercy Hospital, providing access to care for the surrounding community and strengthening Catholic health care in Chicago, according to leaders of both organizations.
"Mercy Hospital has been privileged to serve Chicagoans for 159 years, as the first teaching hospital in Chicago, and a leader in the city's health care market," said Sister Sheila Lyne, RSM, President & CEO of Mercy Health System. "While we stand strong today, we realize that with the uncertainties of health care reform and the challenges facing stand-alone hospitals, we need to be responsible and consider an affiliation with a larger Catholic health system. Joining our ministry of healing with Trinity Health would provide us with the strong base of support needed to ensure we can continue to serve our community."
With the LOI in place, leaders representing both Mercy and Trinity Health will further evaluate the potential for affiliation and complete a number of necessary steps, including filing for regulatory approvals. If all steps progress as planned, the affiliation could be completed in spring 2012.
"With this potential affiliation with Mercy Chicago, Trinity Health continues its commitment to strengthening Catholic health care in the Chicago area and across the nation," said Joseph R. Swedish, President and CEO, Trinity Health. "Our two systems share an unrelenting focus on excellent care so an affiliation at this time makes good sense for the organizations, as well as for the associates, physicians, patients and communities served by Mercy Hospital."
Trinity Health and Mercy share complementary missions and similarities in legacy
and have had a strong collaborative relationship for several years. Since April 2009, Trinity Health has provided group purchasing opportunities to Mercy. It also provides information services leadership support.
"Trinity Health has roots with the Sisters of Mercy of the Americas so our missions are aligned and our commitment to strengthening Catholic health care is passionately shared," said Sister Sheila. "We are pleased to enter into this Letter of Intent and begin the due diligence process. We believe that an affiliation between Mercy and Trinity Health will enhance the solid blueprint of Catholic health care in Chicago to the benefit of all we serve."
About Mercy Health System
Mercy Hospital & Medical Center, Chicago's first teaching hospital, has served Chicago for 159 years. With 479 licensed beds, Mercy is a Level II Trauma center, complete with a comprehensive network including the Mercy Family Health Center, a look-alike Federally Qualified Health Center (FQHC), the Mercy Foundation, Inc., the philanthropic arm of the hospital, eleven auxiliary care facilities, MercyWORKS occupational health program, and two school-based health centers in Wendell Phillips and Dunbar Vocational Career Academies. Mercy has a teaching affiliation with the University of Chicago and the University of Illinois at Chicago. Mercy's medical residency program includes internal medicine, OB/GYNE, podiatry, and trains over one hundred residents each year, including independent residencies in emergency medicine, surgery, and radiology. In its century and a half of serving Chicago, Mercy has been a pioneer in health care with many firsts, including the first Oncology Unit in Chicago, the first FDA-approved carotid artery stenting procedure in Chicago, and the first in Chicago to perform Laparo-Endoscopic Single-Site Surgery. For the past 6 years, Mercy has served as the lead agency for the Illinois Breast and Cervical Cancer Program screening and treating more women than any other agency in the state of Illinois. Mercy continues its legacy of being a leader in Patient Safety with a Stage 6 Designation of the HIMSS Analytics Electronic Medical Record Adoption Model, putting Mercy within the top 3.5% of hospitals in the nation. Mercy is also home to a certified Stroke Center, a superior Cardiovascular Institute with an Accredited Chest Pain Center, a Diabetes Treatment Center Accredited for Excellence and a leading Cancer Center also Accredited for Excellence. To learn more about Mercy, visit http://www.mercy-chicago.org or become a fan of the Mercy Hospital Facebook page at http://www.Facebook.com/MercyChicago .
About Trinity Health
Based in Novi, Mich., Trinity Health is one of the largest Catholic health systems in the United States. It operates 47 acute-care hospitals, 401 outpatient facilities, 31 long-term care facilities, and numerous home health offices and hospice programs in 10 states. Employing more than 53,000 full-time staff, Trinity Health has operating revenue of $9 billion. As a not-for-profit health system, Trinity Health reinvests its profits back into the community through programs to serve the poor and uninsured, manage chronic conditions like diabetes, health education and promotion initiatives, and outreach for the elderly. In fiscal 2010, this included nearly $460 million in such community benefits. For more information about Trinity Health, visit http://www.trinity-health.org or become a fan of the Trinity Health Facebook page at http://www.facebook.com/trinityhealth.
###