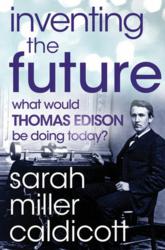 Hearing stories about Edison's inventions as a child was one thing, but plumbing the depths of his massive innovation empire was unfamiliar territory. - Sarah Miller Caldicott
Hoboken, NJ (PRWEB) November 04, 2011
For a review copy or to schedule an interview with Sarah Miller Caldicott, contact Heather Condon, Wiley hcondon(at)wiley(dot)com – 201-748-6017
What does it take to inspire innovation in 21st century organizations? What are the qualities of a successful innovator?
These are important questions businesses should ask following the dramatic economic downturns experienced in the first decade of the 21st century. Heralded by many as the fourth economic revolution in human history, we find ourselves standing awkwardly in the Innovation Age.
Following the epoch shifts of the Agrarian Age, the Industrial Age, and the Information Age, the Innovation Age commenced just a few years after the turn of the millennium – the same window of time that Sarah Miller Caldicott awakened to an extraordinary innovation twist in her own family tree.
After learning at age 6 that she was a great-grandniece of Thomas Edision, Sarah Miller Caldicott was determined to learn how Edison's timeless innovation success could teach us to become more effective innovators today.
In conjunction with her speech at the November 4th 2011 TEDx Peachtree Conference in Atlanta, Georgia - Sarah Miller Caldicott will discuss her newly released e-book, Inventing the Future: What Would Thomas Edison Be Doing Today? (Wiley; ISBN: 978-1-1182-1986-7; E-Book only; $6.99; November 2011). She explains how Thomas Edison pioneered six industries in less than 35 years through methods Caldicott reveals as Edison's Five Competencies of Innovation™. These five competencies reveal how Edison created billions of dollars in market value in his lifetime. The core industries Edison created still remain today.
Thomas Edison holds over a thousand patents in his name including the electric light bulb, the phonograph, and motion picture camera. He is considered one of the world's most prolific inventors with a work ethic and vision for the future that changed the modern world. Imagine what Edison would be possible of if given the current advances in technology.
Inventing the Future examines how Edison would innovate today and reveals steps modern readers can take to utilize his methods. Caldicott offers six proactive concepts highlighting what Edison would be working on in the 21st century. Each concept offers an expansion of actual inventions Edison commercialized in his lifetime. Sarah Miller Caldicott provides a well- researched, intriguing look at how Edison would address the following areas:

Sound and entertainment
Human Health
Alternative Energy
Software and 3D imaging
Human Intelligence
Research and Development
Inventing the Future stimulates an individual's ability to imagine what's possible in the future regardless of obstacles or circumstances. It also includes steps anyone can take to start thinking like an innovator, and offers a hands-on view of how creativity and risk-taking come together to design powerful concepts that create new markets.
Never before has there been a time when innovation was more imperative. As nations stand stymied by the challenges of global warming, dwindling fossil fuel reserves, expanding populations, and deep national indebtedness, Caldicott's e-book provides leaders with the knowledge and inspiration to invent the future, today.
About the Author:
Sarah Miller Caldicott (Oak Park, IL) is a great-grandniece of Thomas Edison and co-author of a groundbreaking book on Thomas Edison's innovation best practices, entitled Innovate like Edison: The Five-Step System for Breakthrough Business Success. Sarah speaks to audiences across the country, and leads executive seminars on how to embed Edison's Five Competencies of Innovation in their organizations.
These competencies propelled Edison to generate a record-breaking 1,093 US patents and 1,293 international patents over 62 successive years. Sarah also guides leaders on how they can use Edison's timeless methods to create innovation momentum in their organizations. As well as develop innovation infrastructure to propel them toward success. She also advises executives and business owners on how to design teams for maximum innovation impact, and hire collaborative employees that will thrive in an innovation-driven culture.
Media Contact:
For a review copy or to schedule an interview with Sarah Miller Caldicott, contact Heather Condon, Wiley hcondon(at)wiley(dot)com – 201-748-6017
###