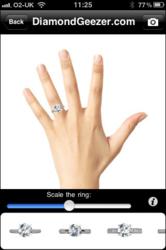 Engage yourself – Click with the Best Jeweller
(PRWEB UK) 4 November 2011
The U.K's leading online diamond jeweller DiamondGeezer.com has launched a free mobile phone app available at no charge from Apple's App Store for anyone thinking of buying a diamond or diamond ring. Packed with information and reference this is an essential tool for any consumer who wants to buy their perfect certificated diamond and the perfect diamond ring from an informed position. The 'know your diamond' knowledge box provides straight talking direction and advice regarding the 4 'C's , Carat, Colour, Clarity, Cut and expands the thinking by including two more; Certification and Confidence. The app also brings clarity on important issues like Blood Diamonds and the Kimberly process.
With hundreds of ring designs to explore and a live diamond data feed the ½ billion possible options and combinations should provide a very positive 'YES' to whatever the buyer demands. A quick touch of a button and if required the user will be connected to a real human being who will proffer expert, informed, qualified advice & consultation without charge, commitment or pressure. The app is fast, simple and the positive navigation will quickly have the user trying the natty virtual 'Try the Ring On' and sending pictures to friends via FaceBook & Twitter of their very own hand wearing the latest ring design no doubt supporting a one million dollar 5 carat, D Flawless diamond.
"More than 26% of our business is secured or introduced via our mobile website diamondgeezer.mobi and 52% of our emails are accessed via a mobile phone already" said DiamondGeezer.com executive Clive Billing. "There's some really great jewellery apps out there however we believe that DiamondGeezer.com's new app and for that matter our mobile site go quite a bit further than other industry mobile solutions which tend to be merely a snap-shot of designs & services. The DiamondGeezer.com mobile App is a complete etailing solution and not just a mobile advert. We're definitely 4G ready and should be best placed to meet the switch from desk to mobile. These are indeed very exciting times for our company and for our industry" CLICK HERE to download the app.
###