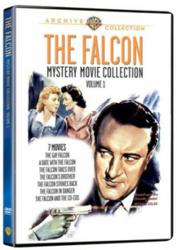 Philadelphia, PA (PRWEB) November 08, 2011
Movie fans with a hankering for suspense are in for a treat as sibling actors George Sanders and Tom Conway play the Michael Arlen-created gentleman detective in The Falcon Mystery Movie Collection, Vol. 1, a three-disc/seven film set available through Movies Unlimited, one of the country's leading DVD retailers.
Hot off of his appearance as Simon Templar in the popular "The Saint" series of thrillers, Sanders stepped into the role of Gay Lawrence, aka "The Falcon," the shadowy, sophisticated figure who works outside of the police department in an unassuming fashion in order to solve crimes. Like "The Saint" films, "The Falcon" movies were produced by RKO Pictures and are now made available from the Warner Archive Collection.
Sanders' first portrayal of the character was in The Gay Falcon (1941), in which Gay Lawrence is asked to put aside his crime-stopping activities by his fiancé and resume his focus on being a stockbroker. When a group of jewel thieves try to frame his sidekick "Goldie" Lock (Allen Jen-kins), "The Falcon" flies into action.
A Date With the Falcon (1941), Sanders' second turn as "The Falcon," finds his wedding plans disrupted when he helps a woman trying to get the goods on a gang involved in making synthetic diamonds.
The Falcon Takes Over (1942), with a story based on Raymond Chandler's "Farewell, My Lovely" has Sanders' Falcon gentleman detec-tive teaming with a woman reporter to investigate an ex-convict wrestler (Ward Bond), his trouble-making girlfriend and a stolen jade necklace.
In The Falcon's Brother (1942), Sanders' real-life sibling Tom Conway shares the screen with him, playing Tom Lawrence, Gay Law-rence's half-brother, who takes over the investigative duties of the original Falcon after he's injured. The case entails a fashion magazine and espionage.
The baton is passed to Conway in The Falcon Strikes Back (1943) which finds Tom Lawrence's detective with a new sidekick (Cliff Edwards). Here he is framed for murder and for stealing war bonds.
In The Falcon in Danger (1943), The Falcon looks to find the secret behind the disappearance of a group of industrialists who have vanished from a plane.
And in The Falcon and the Co-eds (1943), Conway's sleuth attempts to find the real reason a professor died at an all-girls school.
Movies Unlimited is one of the oldest and most reliable video retailer in the world, specializing in DVD and Blu-ray titles. The Falcon Movie Mystery Collection, Vol. 1 can be ordered through their website at moviesunlimited.com or by calling 1-800-4-MOVIES. The Philadelphia-based company also publishes the annual encyclopedic 800-page Movies Unlimited DVD Catalog.
###