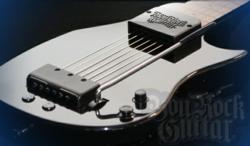 it's a fully functional instrument that can be used with an amp, headphones, your computer, your mobile phone, and even works as a midi controller
Canoga Park, CA (PRWEB) November 09, 2011
OnlyFactoryDirect.com now carrying new You Rock Guitar designed by Inspired Instruments, one of the hottest electric guitars, game controllers, and MIDI device of the season.
In the past 5 years or so there has been a huge influx of popular video games focused on "virtually living the dream" and promising to transform teens into the next "Guitar Hero". This insurgence of guitar based gaming has done a great job of reintroducing real guitar driven music to the modern music market and has introduced countless young potential shredders to some classic music that they may have never been exposed to otherwise. The drawback to these games is that they never really focused on true musicianship or had anything to do with even closely simulating actual guitar playing as pressing colored buttons has absolutely zero benefit to learning notes, pitch, fingering etc. But a little company called Inspired Instruments wants to change all of that with the new You Rock Guitar!
The You Rock Guitar is a fully functional game controller that features real feel and playability using real strings to pick and a touch sensitive fret board complete with simulated strings, fret markers, etc., all created in a way that makes gaming much more like actually jamming! Impressive right, but that's not all! The You Rock guitar is MUCH more than just a game controller (which in hindsight is really the least impressive function this little sucker packs), it's a fully functional instrument that can be used with an amp, headphones, a computer, a mobile device, and even works as a midi controller. The You Rock boasts 25 sound presets for guitar, an additional 50 guitar synth presets, 25 jam tracks with "You Rock Modes" for learning scales etc., 50 built-in drum tracks, 65 alternate tunings with open space to save your own, 100 customizable parameters and presets, multiple play modes, removable neck for travel or storage, multi-directional whammy bar, game controls, and the ability to interchange headstock designs.
Overall a very impressive little unit! The tracking is fast so for recording with midi alone this is a great tool for the recording guitarist. The preset sounds are decent and have a vast array of tones and effects making this a great axe for practicing or jamming anywhere. The removable neck makes it easy to toss in a backpack and take anywhere (even on a plane). You Rock comes complete with chord and scale charts and some other beginner guitarist training tools and the ease and versatility of connectivity to so many different applications makes this a piece of gear that everyone in the house will enjoy, even dad.
###