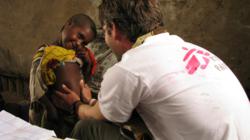 (PRWEB) November 04, 2011
In these uncertain economic times, people are looking to give meaningful gifts with significant impact. A donation supporting MSF's emergency medical work, through a personalized e-card featuring compelling photography from MSF field projects from around the world, can honor friends and family during this holiday season. An e-card donation can be made at http://www.doctorswithoutborders.org/donate
MSF field teams are currently responding to an ongoing nutrition crisis in Somalia, Kenya, and Ethiopia due to severe drought and ongoing conflict in Somalia. Teams are treating tens of thousands of malnourished children in refugee camps in Dadaab, Kenya and Dolo Ado, Ethiopia, and are providing medical care and food aid in 13 locations throughout Somalia itself. This is just one of the crises MSF is currently responding to in more than 60 countries.
Private donations enable MSF to work wherever the need is greatest, regardless of race, religion, or politics.
A gift of:
$10 - Can purchase treatment for 10 young children or six adults suffering from malaria
$25 – Can purchase 15 obstetrical stethoscopes, allowing nurses and doctors in the field to monitor fetal heartbeats
$35 - Can provide ready-to-use therapeutic food to treat one severely malnourished child for a month
$50 - Can purchase a week's worth of chlorination supplies to disinfect enough drinking water for 660 people in an emergency
$60 - Can purchase a suture kit containing essential medical instruments for emergency wound repair in the field
$75 - Can purchase enough vaccines to inoculate 185 children against measles
$100 - Can purchase supplies to build emergency shelters for four families displaced during a crisis
Because an e-card donation processes instantly, people can easily make a tax-deductible year-end gift at the last minute. Please visit http://www.doctorswithoutborders.org/donate for more information.
###