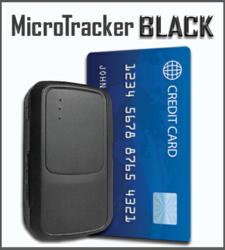 it became a priority to enhance the MicroTracker design to suit more covert surveillance needs
Scottsdale, AZ (PRWEB) November 04, 2011
GPS intelligence, a leading provider of GPS tracking systems, has released the MicroTracker-Black – an innovative, miniature GPS tracker that now offers an increased range of applications for surveillance professionals.
"The MicroTracker II has been an integral part of our GPS tracking line of products since our new Commercial Division launch in early September. A best-selling GPS tracking device with surveillance specialists, it became a priority for us to enhance the design to suit requirements for more covert surveillance needs." said company President, Jeff Evert.
Private Investigators, Corporate Security and Loss Prevention professionals will appreciate the new black design for its limitless possibilities for concealment. Smaller than a credit card and weighing barely 2 ounces, the MicroTracker-Black is ideal for tracking just about anything including people, vehicles and high value assets. Its superior GPS sensitivity with Cell Tower Triangulation ensures that assets can be located within buildings, parking garages, dense urban areas as well as mountainous and remote locations.
The MicroTracker-Black tracks for up to 3 weeks without recharging, and for over 45 days with an optional extended battery pack. A variety of accessories provide flexible placement options for surveillance operations including several types of vehicle mounts, with personal security and asset fastening options also available.
The MicroTracker-Black is a turnkey GPS tracking device. The state-of-the-art Coverttrack© Online Tracking Center provides aerial mapping to track the location of any person, vehicle or asset, providing the address, direction of movement and much more. This heavy-hitting application requires no software installation and can be accessed on any PC or pda-style cell phone, with tracking interval options available from 2 minutes, down to 5 second updates. Tracking plans are available for both U.S. and worldwide coverage, with technical support provided for all MicroTracker-Black GPS trackers.
For more information or to purchase a MicroTracker-Black, contact Kirk Waltz at (480) 661-1916 or Kirk(at)gpsintel(dot)com.
About GPS Intelligence, LLC
Founded in 2006 in Scottsdale, Arizona, GPS Intelligence, LLC is a LBS (Location-Based Service) company specializing in GPS tracking solutions for law enforcement, government, and commercial applications. Product Divisions include Asset Tracking, Vehicle & Fleet Tracking, and CovertTrack©, a division providing GPS tracking solutions for government and law enforcement agencies worldwide.
For more information visit http://www.gpsintel.com.
Media Contact:
Marci Utakis
480-661-1916
advertising(at)gpsintel(dot)com
###