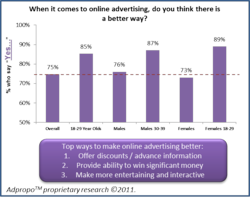 ...there has to be a better way for brands to interact and engage with current and prospective customers that is fun, appealing, relevant, and valuable for both sides.
Philadelphia, PA (PRWEB) November 07, 2011
Online ad spending is expected to top $31 billion in 2011, yet a new consumer survey* undertaken by adpropo™ - a destination platform that will bring brands and consumers together in a more valuable way - shows that, depending on the type of ad format, up to 70 percent of consumers find those ads to be ineffective and even annoying. A range of just 12 to 47 percent found online ads informative and effective. Overall, consumers are most positive towards email, video and Facebook ads, and are least positive towards streaming audio, pop-ups, and floating or animated ads.
Yet, there's hope for marketers looking to truly engage customers online. 75 percent of respondents (and as many as 89% of 18-29 year old women) agreed that online advertising can be done in a better way, prioritizing three top recommendations for improvement.
1) Provide the ability to win significant money or prizes
2) Offer discounts and exclusive information
3) Make ads more entertaining and interactive
The results are music to the ears of Stephanie Rosenlund, Founder and Chief Value Creator of adpropo, which is designed to take digital advertising to the next level. "As a marketer and a consumer, I know there has to be a better way for brands to interact and engage with current and prospective customers that is fun, appealing, relevant, and valuable for both sides," she says, adding. "adpropo will be a platform to do exactly that." adpropo.com is now open to allow sign up for a limited number of beta users (with prize opportunities), and interested consumers can stay in the loop on Twitter and Facebook.
When introduced to the adpropo model, which is designed to encourage high value interaction via games and contests; deals and discounts; large prizes; and cause support, more than 50 percent of respondents said they would try it out, with an additional 30 percent wanting more information to decide.
adpropo undertook the research to document consumer attitudes toward current online advertising models and to help fine-tune its offerings. Some elements deemed important to consumers include:

69 percent of respondents noted that "frequent opportunities to win" are important
67 percent of women surveyed would like to receive information and deals in a single online location
62 percent of men want "the opportunity for big and exciting prizes"
66 percent of younger men (18-29) want the ability to provide their own thoughts, insights and feedback to brands, as compared to 50 percent of women in the same age group
Nearly half of those surveyed must/would like to have their actions on the site support great charitable causes
adpropo incorporates all of these elements, turning advertising messages into consumer-friendly content including "big-prize" live events; creative collaboration between brands and customers; trivia challenges; games; community interaction; and user-submitted content. Rosenlund has created the site to be fun, non-intrusive, and full of consumer benefits.
According to Rosenlund, who has 12 years of strategic marketing experience at companies such as Edelman Public Relations, American Express, and StarCite, online advertising success today is measured against a very low bar, which prompted her desire to improve the brand-consumer dynamic.
"Companies are spending a fortune online, so let's deliver really high-quality engagements in a new way," she urges. "And let's do that by turning ad spending into things that get consumers excited and make them a part of it." She concludes, "adpropo.com will let both sides be creative and engage in a way that makes sense."
More interesting statistics from the adpropo survey:

Americans now spend an average of 98 minutes of leisure time online per day (women average a bit higher), and the single most popular way people spend that time is online gaming.
When asked about building relationships with brands via Facebook and Twitter, 37% of people like to get information this way and are fine with having brands as part of their social networks – while 38% have no interest or consider brand relationships in this context to be "wrong time wrong place."
Women 55+ spend the most time of any group playing online games, indicating they spend 34 minutes each day.
Women 40-54 spend nearly 70% more time on social media than the overall population, at 32 minutes each day.
See attachment for additional data and details.
About adpropo & Founder Stephanie Rosenlund
adpropo is currently accepting sign-ups for beta users, and is solidifying advertisers as launch partners. The site will launch in January in beta form and will continue to add content and features based on consumer and advertiser input. It is the only platform that a) is built entirely to enable consumer / brand relationships in a meaningful way, and b) offers a range of entertainment and other creative content and incentives wrapped completely around product messaging. Adpropo is also now live on Twitter and Facebook and will be encouraging consumer input to help drive the site's value.
Stephanie Rosenlund started in the public relations field, designing marketing communications plans for large financial services clients. After receiving her MBA in Marketing and Finance, she spent 6 years at American Express, with increasing responsibility in areas such as strategic industry partnerships and regional / destination marketing. Most recently she worked on special projects, new product strategy, and customer marketing for StarCite in Philadelphia. In 2011, she began her full time focus on building and launching adpropo.
*Adpropo survey ©2011. The online survey, conducted by Toluna PLC, assessed the opinions of 1,013 US adults over 18.
# # #