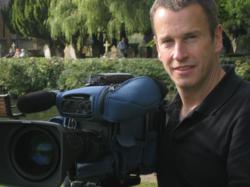 People can join me as I embark on making a fantastic sci-fi movie.
(PRWEB) November 05, 2011
Financing a British feature film has never been easy and despite the huge global success of films like Harry Potter, Slumdog Millionaire and The Kings Speech, it is still almost impossible to get an independent movie funded in the UK.
Film Maker, Simon Cox, has worked in the UK film and TV industries for over 20 years, he has one successful feature film under his belt; Written in Blood, and has edited and directed for television. His career has seen him linked with BAFTA nominations and recently he was second unit director on the multi award winning and OSCAR short-listed film, Gone Fishing.
But the one thing that has eluded Simon is his dream, to make an entertaining sci-fi feature film. His project entitled, Kaleidoscope Man, is a story about the survival of mankind when aliens come to earth.
The film has come close to being financed several times, but each time has fallen through at the last moment. Simon Cox says, "Financing a feature film in the traditional sense is like building a house of cards, one simple knock and it's all over. There really has to be an easier way to get a film financed."
So Simon has adopted a new, rather unusual plan for financing his sci-fi dream, he has made a fundraising film. Simon Cox says, "I thought long and hard about what makes a business successful. Obviously you need passion, enthusiasm and dedication, all those things, but it starts with a small investment into a simple product. You sell that, making a profit. Then, you re-invest that profit into something a bit bigger, you sell that, and then you re-invest that profit… and so on. No big loans, no overdrafts, and hopefully no banks! The risk becomes the companies own, and so its success or failure depends on the company, and the company alone."
Simon has made an 82 minute DVD documentary about the home of William Shakespeare, and he plans to sell enough copies to finance Kaleidoscope Man. "I live near Stratford-upon-Avon and decided to make a really high quality and well researched documentary that celebrates the life of England's greatest playwright."
The film is already being sold in Stratford-upon-Avon, in the gift shops, hotels and in the actual houses Shakespeare was associated with, including his birthplace.
Simon plans to sell the DVD all over the world. "Discover Shakespeare's Stratford-upon-Avon is a great film which I am very proud of. I have set up a website called; Sci-Fi Shakespeare.com, which explains my funding venture and where people can buy the DVD. As a thank you for buying it, they will be regularly updated with my progress as I embark on making a really fantastic sci-fi movie."
Simon is selling his DVD as Christmas presents and aims to shoot Kaleidoscope Man in the summer of 2012. "I know that there are some important issues going on in the world at the moment, certainly more important than helping some film maker realise his dream, but I have worked so hard on developing Kaleidoscope Man. It's been my passion for years and I just have to get it made. I know people will love it and will get behind me with this."
"Imagine how different the world would be if George Lucas couldn't get Star Wars off the ground, or the Beatles couldn't get a record deal. Now I'm not comparing myself to them, but I just might have the next big thing, so if I don't give it a go, we'll never know! Take a look at the Kaleidoscope Man trailer (which features True Blood star, Stephen Moyer) and the concept art on the sci-fi Shakespeare website and decide for yourself."
For more information about Simon's fundraising film and to see some clips from Kaleidoscope Man and its making, check out: http://www.scifishakespeare.com
If you need more information about this topic, or to schedule an interview with Simon Cox, please call Simon on 00 44 (0)7791 890669.
Email: simon-alphastar(at)hotmail(dot)co(dot)uk
http://www.scifishakespeare.com
###