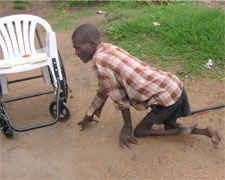 Los Angeles, CA (PRWEB) November 08, 2011
When a business or individual restores a damaged property, they likely think of abatement, reconstruction and repair before they consider contributing to the global nonprofit community. However, Har-Bro, a local emergency services and restoration company, has taken restoration to the next level, donating wheelchairs through the Free Wheelchair Mission nonprofit as a way of thanking clients for their business and making a difference in the world.
"Free Wheelchair Mission's goal of transforming the quality of life for individuals, families, neighborhoods and communities around the world really resonated with our staff, and we are thrilled to be able to make such a powerful contribution on our clients' behalf," said Har-Bro President James Franklin.
When Har-Bro donates a wheelchair on behalf of a client, the client then has the opportunity to visit http://www.freewheelchairmission.org to designate where they want the wheelchair to go to and get involved in the process.
"One of the reasons I've worked at Har-Bro for almost 20 years is the amazing leadership and philanthropy throughout our company," said Norton Engen, branch manager for Har-Bro in Valencia, Calif. "It's been wonderful to receive so many calls from happy customers, some of who are planning on offering a similar contribution to their clients over the holiday season."
Anyone interested in contributing to the Free Wheelchair Mission can donate online at http://www.freewheelchairmission.org. The organization works around the world in partnership with a network of humanitarian, faith-based and government organizations, sending wheelchairs to hundreds of thousands of disabled people, providing not only the gift of mobility, but of dignity, independence and hope.
Har-Bro is a full-service mitigation, restoration and reconstruction provider for properties damaged by water, fire, flood and other disasters. Leading the industry since 1961, Har-Bro has offices in Arizona, California, Nevada, Oregon and Washington. For more information on handling property damages or to learn more about Har-Bro, please visit http://www.harbro.com or call (800) 266-5677.
# # #