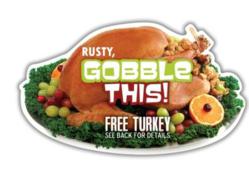 Shaped mail generates three times the response of regular direct mail.
Tampa, FL (PRWEB) November 07, 2011
A recent customer survey conducted by ThinkShapes Mail indicates an extremely high customer satisfaction rating among those clients who have used shaped mail in their most recent direct mail marketing campaigns. ThinkShapes owner Karen O'Brien says shaped mail increases the response rate over "regular" direct mail by two to three times, and that's making customers very happy and bringing them back for additional campaigns. O'Brien shares some recent success stories, below:
When Diana Aguirre Martinez decided to use a shaped direct mail piece to invite patrons to a historical preservation celebration, she anticipated a typical response. What she didn't expect was that she would hear from 88 percent of those invited – a phenomenal response in any direct marketing campaign.
Martinez works as the development director for Old Spanish Missions, Inc., a non-profit organization dedicated to the preservation of the four 300-year old Spanish missions, including the well known "Alamo," in San Antonio, Texas. The invitation, which was personalized for each addressee and featured one of the four historic San Antonio missions, has been credited not only with encouraging a huge turn-out for their event, but also for helping to increase awareness of the non-profit's efforts to raise more than $15 million in a recent successful capital campaign.
The staff and board members of Old Spanish Missions, Inc. are not alone in their praise of shaped mail.
Other non-profit organizations, natural gas companies, physicians groups, credit unions, and high tech businesses are all among the recent satisfied customers who are working with ThinkShapes Mail of Tampa, one of a small number of specialty printers that can produce the high quality, customized, and even personalized shaped mail campaigns.
Owners Karen and Jim O'Brien say business is booming, thanks in large part to postal regulations that allow for custom shaped mail in sizes as large as 12" x 15" to be delivered to mailboxes without envelopes. The company also credits its success to a focus on customer service, often meeting seemingly impossible deadlines.
"What marketers are finding is that, while email marketing and web-based campaigns have become a focus for many, it leaves room for direct mail to make an impact. When direct mail is creatively produced, personalized, and is designed as part of an integrated marketing program, response rates are typically double or triple an average campaign," says Karen O'Brien.
The Los Angeles Federal Credit Union (LAFCU) has completed two recent campaigns with ThinkShapes, mailing approximately 7,000 pieces each time and two more campaigns are ready to drop. Christina Balbirnie of the LAFCU marketing department says they like shaped mail because it's fun and it gets attention.
"When people get mail in their mailbox that is shaped differently and that is personalized for them, they take the time to look at it. As a busy marketing department you also can't discount the fact that ThinkShapes is a digital printer that can work with us even when we have last minute changes and still meet the deadlines. It's the complete package," Balbirnie says.
So what makes shaped mail so special?
"It's just different enough and creative enough that it practically jumps out of a stack of mail. Since the goal of direct mail is to get people to read it and ideally take the next step, shaped mail definitely increases readership and helps with that process," Jim O'Brien says.
Freelance graphic designers, ad agencies, and marketing firms are key customers for ThinkShapes, as are marketing professionals at corporations and development execs, like Martinez, at non-profit organizations.
"Everyone is looking for new, creative ways to reach their audience to sell more of their products or services. Shaped mail gets attention, which means businesses can even send out fewer pieces and achieve greater results," Karen says.
While shaped mail tends to appeal to marketers sending promotions for higher ticket items or looking for large donations, fast food restaurants and pizza joints find it works great too, especially when they include multiple coupons or other incentives that extend the life of the mail piece.
A recent report by the Direct Marketing Association reports that, on average, for every dollar spent on direct mail, senders can expect $12.57 in sales, and that's for a standard direct mail piece. From a customer service standpoint, marketers praise ThinkShapes for their end to end service.
"Designers are usually surprised to find out that there really are no limits on shape, only size, and campaigns can be integrated with personalized URLs (PURLS), QR codes, and other tracking systems to make it easy to evaluate interest and response. It doesn't have to be expensive. Just about any stock image can be turned into a shaped mail piece," Jim says.
Customer surveys sent out by ThinkShapes prove the concept works and the company is meeting their needs. Without fail, 100% of respondents to a recent survey by ThinkShapes said that, based on there experience, they would use shaped mail for additional campaigns.
To find out more about shaped mail, visit http://www.thinkshapesmail.com, or call them at 800 889 4406.
###