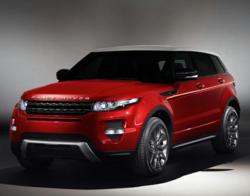 This venture is a way for people to have an exciting vehicle to drive for a weekend outing or a family vacation.
Paramus, NJ (PRWEB) November 04, 2011
Prestige Auto Rentals of New Jersey opened for business today, offering a fleet of powerfully versatile luxury SUVs for rental. The new location is the only auto rental company in the area where clients can rent the all-new 2012 Range Rover Evoque, Motor Trend's "SUV of the Year."
General Manager Martin Hall opened Prestige Auto Rentals in response to a strong demand for luxury SUV rentals from New Yorkers. "Land Rover dealerships receive countless inquiries about Range Rover and Land Rover rentals," said Hall. "We see this venture as an opportunity for more people to drive and experience the brand. Renting a luxury SUV is ideal for people who don't want to pay for year-round garage space in addition to a car payment or lease payment. It's a way to have an exciting vehicle to drive for a weekend outing or a family vacation."
The 2012 Range Rover Evoque is the smallest, lightest Range Rover ever, and a landmark innovation in Land Rover's efforts to create more sustainable vehicles. The Evoque achieves fuel economy of 28 MPG EPA highway and 19 MPG EPA city, without sacrificing Land Rover's traditional 4x4 off-road capability, trademark luxury and superior craftsmanship. Prestige Auto Rentals is proud to be the only rental company in the region with this dynamic new SUV available for rental.
In addition to the Evoque, a variety of Land Rover and Range Rover rentals are available at Prestige Auto Rentals to suit the diverse needs of consumers. For the large SUV rental market, Prestige offers the renowned flagship models, Land Rover LR4 and Range Rover HSE. For those looking for a more economical ride without sacrificing luxury or off-road capability, consider the Range Rover Evoque or the Land Rover LR2.
The current generation of Land Rovers represents the culmination of 60 years of heritage. For generations, Land Rover has dedicated itself to engineering world-class, intricately styled vehicles, while incorporating the latest innovations in performance and luxury. Land Rovers and Range Rovers continue to captivate loyal owners while demanding attention both on and off the road.
A short drive from Manhattan in Paramus, New Jersey, Prestige Auto Rentals is just minutes from the George Washington Bridge. Customers – call the Rental Manager, Joe Lachina, at 201-987-8900 to reserve a Land Rover or Range Rover rental, or book online at PrestigeAutoRentals.com.
About Prestige Auto Rentals
Prestige Auto Rentals of New Jersey is committed to providing a fleet of clean, reliable luxury SUVs, as well as outstanding personal service, to the greater New York City area. Prestige operates a second auto rental location in Glenwood Springs, Colorado, serving the Aspen/Vail area.
###