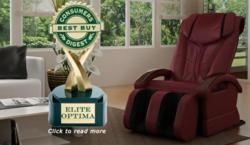 We realized that we don't need to wait until 'National Chiropractic Health Month' every year to keep our users well-informed of the benefits of routine massage and chiropractic therapy
Evergreen, Colorado (PRWEB) November 05, 2011
Elite Massage Chairs, an online retailer and designer of therapeutic massage chairs for a variety of personal and professional applications, intends to continue celebrating National Chiropractic Health Month well into the holidays with special offers designed to help people find healthy and effective massage chairs for their home chiropractic needs.
These special offers include educational sessions, an open demonstration floor, and a new referral program that puts money back in customers' pockets.
"We wrote a lot of white papers and informative articles on the distinct and apparent health advantages of chiropractic medicine in October," says Mike Bowman, a representative of Elite Massage Chairs. "We published them everywhere and we got a lot of great feedback from readers, many of whom had no idea how important both good ergonomics and chiropractic medicine are."
Elite Massage Chairs now welcomes all clients, potential clients, and casual window-shoppers alike into their showroom location just outside of Boulder, Colorado, for product demonstrations as well as in-depth, personal Q&A sessions related to massage therapy, massage chair technology, aromatherapy, and chiropractic medicine.
"We have a great relationship with all of our customers, and we think it will be great to interact with them and educate them on all-things-massage. We have always done this and did this throughout October, but we realized that we don't need to wait until 'National Chiropractic Health Month' every year to keep our users well-informed of the benefits of routine massage and chiropractic therapy," says Bowman. "So now, rather than waiting for our customers to visit us, we are going to openly invite them, one and all, to visit us and experience these amazing therapeutic chairs for themselves."
Elite Massage Chairs also offers a new "refer a friend" program that provides a $100 voucher to customers who spread the word. The move is an attempt to further solidify customer loyalty and give back to the people who make the site successful.
Todd Harmon, an employee of Elite Massage Chairs, elaborates: "We are always looking for ways to show our customers how much we appreciate them. We've always offered white glove delivery and setup service with our chairs, and we've recently started offering financing options for people who want the health benefits of a massage chair but don't immediately have the necessary finances to make it a reality. Now, we want to give our customers $100 back for every person they refer who buys a chair."
The company claims that their customers are their best sales people – and they view this referral program as a sort of "commission" for their loyal clients. If a referred customer mentions the referrer's name at checkout, that referrer receives a check for $100 in the mail. This applies for every referral a referrer can make.
"It's entirely possible, with enough referrals, that a customer might pay off their own massage chair entirely!" Laughs Harmon. "In fact, we are pretty sure that some of our old customers are already close to that benchmark. It's exciting, and we're happy to make them so happy!"
If you would like to contact Elite Massage Chairs, or visit their Colorado demonstration room, click the following link to contact Elite Massage Chairs.
National Chiropractic Health Month takes place in the United States every October. You can learn more about it here.
###