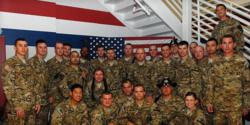 We hope that these decorations provide a bright spot in a tough situation
Cheektowaga, NY (PRWEB) November 04, 2011
Christmas Central, a chief supplier of holiday merchandise and home furnishings, recently ensured that a unit of 35 men serving in Afghanistan will have a decorated tree this Christmas season. The online company donated the tree and accompanying decorations to C Company 1st Battalion, 227th Aviation Regiment of the U.S. Army. Veterans of Foreign Wars Leonard Post, Cheektowaga, NY, contributed funds for shipping the items.
First Sergeant Michael Chadwick contacted former Army Seargant Paul Luthi at Christmas Central, requesting a tree for his unit stationed at Forward Operating Base Sharana. The base is located in the Paktika Province of Eastern Afghanistan. Christmas Central responded with a 7.5-foot artificial pre-lit tree, nearly 300 shatterproof ornaments, a tree skirt, and a star topper. The shipment also included stockings, extra lights, and hard candy.
"We hope that these decorations provide a bright spot in a tough situation," said Paul Luthi, former Army Seargan now Christmas Central Team Leader.
In addition, Christmas Central office personnel and many of their children signed a card and wrote letters to the servicemen, expressing good wishes and thanks.
About ChristmasCentral.com
ChristmasCentral.com is a division of Gordon Companies, Inc., a family owned and operated business founded in 1977. As one of the largest online retailers of Christmas merchandise and home décor, ChristmasCentral.com offers over 30,000 unique products, serving the decorating needs of individual shoppers, professional decorators, small and large businesses, and television studios. Their colorful Christmas trees have been featured on NBC's "The Today Show."
For more information, please visit http://www.ChristmasCentral.com or call 800-433-0038.
###