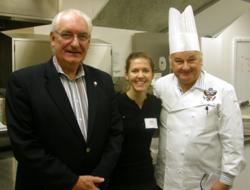 I am impressed with the level of commitment to a pastry career by the participating students and wish them well in their pursuit of "the sweet life."
Gaithersburg, Maryland (PRWEB) November 05, 2011
Congratulations to Amy Eisinger who was the First Place Winner of the Roland Mesnier Pastry Scholarship Competition held at L'Academie de Cuisine on Saturday, October 29, 2011. Amy won a $4,000 tuition credit scholarship to LAC's professional pastry arts program against a field of 12 entries. Her winning entry was Chocolate Pumpkin Layer Cake garnished with Brown Sugar Pepita Toffee and Candied Ginger. Admissions Director, Heather Roth stated that "all the entries showed a good deal of work and understanding of pastry." Chef Roland Mesnier, former White House Pastry Chef and Founder of L'Academie de Cuisine's pastry arts program was the judge. He was accompanied by Chefs Francois Dionot, Theresa Souther, Director of the Pastry Program at LAC and former director, Mark Ramsdell. Chef Roland congratulated all the contestants and urged them to continue to learn and practice their skills to get better. He "was impressed with the level of commitment to a pastry career by the participating students and wished them well in their pursuit of "the sweet life." Amy plans to enroll in L'Academie's January 2012 daytime pastry arts program. L'Academie is currently recruiting for all 2012 programs including the inaugural evening pastry arts program beginning on March 27, 2012.
In 2005, L'Academie was named one of the "Top Ten" Culinary Schools in the United States. The Culinary Arts and Pastry Arts Programs (daytime and evening) provide a course of study in the theory and techniques of classic French cuisine with an emphasis on fine food planning, preparation, and presentation. L'Academie de Cuisine offers small class sizes so students receive personal attention and expert instruction under the direction of European and American trained chefs and pastry chefs. The professional program includes a paid externship for students to work in fine-dining restaurants, hotels and bakeries. An application is available on LAC's website. Visit http://www.lacademie.com for an application or contact LAC's Admissions Department for more details at (800) 664-CHEF (2433), x201 or admissions(at)lacademie(dot)com
In addition, L'Academie de Cuisine has offered over 1000 recreational cooking classes at two locations in Gaithersburg and Bethesda Maryland since 1976. Other areas of study include continuing education and private events.
###