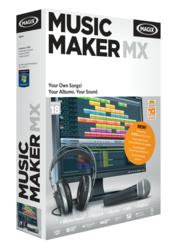 Easy entry into music-making and publishing
Reno, NV (PRWEB) November 29, 2011
The own song ideas are too good for the drawer. The new MAGIX Music Maker MX provides new loops and instruments which are so good they are sure to please. Thanks to a fresh sound archive, VST-support and new loop designer help beginners and advanced users make noticeably better sounding songs, which can then be uploaded directly to Facebook. True to the name change MX which stands for Media-X-change, the new MAGIX Music Maker MX successor to Generation 17 allows for an exchange between other musicians and fans.
As well as SoundCloud and YouTube, the user can now also upload its own productions to Facebook directly from the program. Uploading songs has never been so easy. The musician is accompanied from start to finish, so getting to grips with the sound block system, professional loops, virtual instruments, remix and mastering tools is simple. This will definitely help the songs get more good attention than bad.
For a fresh sound professional studio musicians from MAGIX have recorded 1500 loops (or 3500 premium version) from scratch. In addition, another 2000 loops can be downloaded free from the online archive. Make and edit your own melodies, chords and rhythms with the new virtual instruments. This gives a new MAGIX Music Maker MX lead synth and official drum engine. In the premium version Electric Bass and Century Guitars have changed their tune, everything now bears the Yellow Tools stamp, a new addition to the MAGIX family.
Perfectionists watch out - the loop designer takes sounds to new sonic worlds, especially well suited for remixes. Since video dubbing among Music Maker users is becoming increasingly important, MAGIX has, in line with the MX philosophy added a "Share" menu button. Thus, self-produced background music can be directly to the arrangement of video editing software from MAGIX, e.g Movie Edit Pro.
"Regardless of age, ethnicity, or background, many people have a unquenchable thirst for music; whether just listening or creating their own and sharing. The MAGIX Music Maker MX provides an experience for both and spurns a creative connection between the user and their music. It provides a massive sound loop library in many different genres allowing even a beginner to appreciate music creation. Users can grow with their craft by using different synthesizers and life-like virtual instruments. Let's not forget that the ability for a user to record their voice, edit and enhance it with the music they have created, then share with friends and family through the numerous social media portals worldwide is the ultimate gift", said Markus Gunn, VP Sales & Marketing.
The program is available in three versions. Alongside the basic version, Music Maker MX for $59.99, the premium variation featuring more loops, instruments and studio features such as surround 5.1 Mixing for $99.99. The MAGIX Music Maker MX Production Suite for $399.99 is composed of the premium version software with more than 10,000 sounds and loops and ten Vita solo instruments. With professional studio tools such as the Vintage Effects Suite, the VariVerb Pro studio reverb and the sampler workstation Independence, any creative ideas can be put into action when song writing.
Editors Notes
Price and system requirements:
Operates on Windows XP, Vista and 7. Requires 1GB RAM and 4.5 GB hard disk space for program installation
MAGIX Music Maker MX is $59.99, MAGIX Music Maker MX Premium is $99.99, MAGIX Music Maker MX Production Suite is $399.99
Review Copies
For further information, review copies, or additional images please contact:
Nova Fisher, Tel +44 1442 351035 email: nfisher(at)magix(dot)net
About MAGIX:
MAGIX is a leading international provider of high-quality software, online services and digital contents for multimedia communications. Since 1993, MAGIX has been developing leading technologies for creation, editing, management and presentation of photos and graphics, videos and music. Internationally, MAGIX operates from branches in the USA, Canada, the UK, France, Italy, Spain and the Netherlands. The product range is targeted towards laymen and professionals alike and goes beyond the PC range to include seamlessly integrated online and mobile applications.
According to its retail sales figures, MAGIX leads in the multimedia software sector in Germany and the most important European markets, and is one of the most successful competitors in the USA. Fifteen years of market presence as well as one thousand awards worldwide testify to the company's power of innovation.
Music, photo, and video software from the market leader - MAGIX
http://www.magix.com
# # #