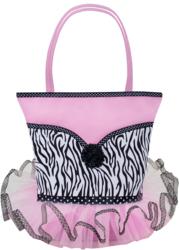 Our customers love your bags for their unique designs and excellent quality!
Seabrook, TX (PRWEB) November 12, 2011
Sassi, loves to get caught up in all the festivities of the upcoming season of good will by offering free Domestic Shipping on orders of $40 or more. Christmas is definitely the time for giving and Sassi would like to help customers with a free shipping offer.
Enter Coupon Code "40SHIP" at checkout.
Browse their website to find just the right bag for that special girl. With so many uniquely decorated tote bags, duffel bags and others you are sure to find the perfect one. And don't forget the specialty bags that include Tutu Bags, Cheer Uniform Totes and Ballet, Tap Combo Bags. BLANK bags offer the flexibility for individuals and teams to have the bags embellished and embroidered for whatever their interest might be. Some examples are: Team Names, Sleepover, Soccer, Tennis, and Swim. Or, perhaps just personalize it with the child's name to make it an extra special gift.
Whatever the occasion or activity, Sassi Designs makes bags that are perfect for a memorable gift. Sassi Designs enjoys helping children grow to their potential by supporting their activities and creating a variety of products that add to the excitement of accomplishment that extracurricular activities bring. Watch this company grow as they introduce more products to celebrate the myriad of opportunities a 21st Century Girl enjoys!
About Us:
Sassi Designs is located in Seabrook, Texas, a popular southeast suburb of Houston, near the Clear Lake NASA area. Established in 2004, Sassi has enjoyed very strong and successful years. Products can be found in specialty Dancewear, Gymnastics and Cheer Shops, Children's Stores, Gift Stores, Toy Stores and, Embroidery Shops in the United States, Canada, Central America, Japan, the United Kingdom, Australia, New Zealand and Korea.
###