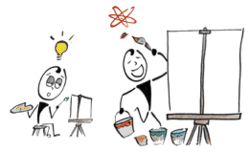 Learn to lean on nothing outside of your true self.
Boston, MA (PRWEB) November 04, 2011
Author and Philosopher Rob White will be launching a three-part Atomic Action Workshop at the Green Tree Bookstore in Fitchburg, MA. In this workshop, Rob will discuss the lost art of taking incredibly effective action (Atomic Action) in practical and inspiring ways. The art of Atomic Action can be used in all areas of one's life. The answer to getting a lot done in an astonishingly short period of time is simple.
This three-part Atomic Action Workshop is intended to be incredibly delightful and easy; with each part attendees become increasingly more relaxed. During the first session, participants learn how to catch sight of the rich harbor one seeks, and in session two and three, they will learn how to eagerly sail toward that harbor in new and exciting ways.
There are a few seats left in this workshop. Call the Mind Adventure office (617 477-4260) or email to reserve a seat. The cost is $125.00, and participants receive a pre-publication Edition of rob's latest book, Marvelous Denials and Wonderful Obsessions. The workshop begins on Wed. 11/9/11 at 7:00 p.m. and will continue at the same time and place on Nov 16 and 23.
As usual, rob offers a 100% money back guarantee if attendees are not satisfied. Rob says, "You will learn to lean on nothing outside of your true self. Use every event in your life as a source of advancement. Begin taking Atomic Action right now; call and reserve a seat. Everyone can have a satisfying life. Sincere search is always rightly rewarded. We hope to see you there."
###