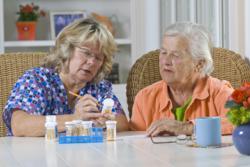 Medication errors cause approximately 1.4 million emergency room visits per year. Medication safety is easily accomplished through the use of an automated medication dispenser...said Jeff Pigott
Pittsburgh, PA (PRWEB) November 04, 2011
Accurate medication management can be life-saving, but mistakes in medication management can cause major problems. Tragically, more than 125,000 of these medication errors result in death.(iii) Twenty-three percent of nursing home admissions are due to non-compliance.(iiii) Medication management is vitally important to keeping seniors safe.
Automated Security Alert offers a variety of solutions to assist seniors in medication management. With multiple medication dispensers to choose from, these dispensers help to keep medication organized. Medication management can be simplified with the assistance of Automated Security Alert. Monitored and non-monitored dispensers, allowing you the freedom of selecting the option that is right is for you. With a monitored dispenser, we provide extra security to your medication management because our central station will be alerted by the dispenser that a dose has been missed and will contact the people that you pre-select.
Medication management can be a daunting task for seniors who have multiple medications, vitamins, and supplements, but medication management can also be a challenge for spouses or adult children who don't have any formal medical training. When medication management is assisted by an Automated Security Alert medication dispenser, it can provide not only accurate dosage, medication delivery to the home, medication dispenser installation, but peace of mind to all parties involved in the medication management of their loved one.
Using a medication dispenser can be an effective tool in medication management for hospitals, home health care companies, care transition models, health plans and nursing homes, as well. Using a medication dispenser to ensure proper medication management can save the lives of patients, save facilities costly lawsuits and investigations, and a lifetime of guilt for caregivers. Medication management may be an exact science, but the burden can be eased when medication management is assisted by Automated Security Alert.
ASA has been a national provider of medical alarms and medication dispensers since 1988. With offices in Philadelphia, Cleveland and their main headquarters in Pittsburgh, ASA's trained operators provide in-home safety throughout the nation with medical alert, fall detection and medication management systems. Through use of the array of available products, patients can increase their time at home by an average of six years. For more information on maintaining an independent lifestyle, visit http://www.automatedsecurityalert.com.
Contact:
Jason Seyler
Phone: (800) 338-7114
Director of Life Safety
(i)Automated Security Alert 10 year study.
(ii)(Institute for Medication Management. http://www.medicationreview.net/index.php/medication-error.html)
(iii)(Smith, D., Compliance Packaging: A Patient Education Tool, American Pharmacy, Vol. NS29, No 2 February 1989)
(iiii)(Standberg, L.R., Drugs as a Reason for Nursing Home Admissions, American Health care Association Journal, 10,20 (1984)
###