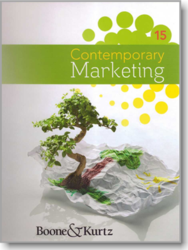 We are both honored and pleased to have our company profiled in such a positive way and in such a prestigious textbook
Atlanta, GA (PRWEB) November 07, 2011
Polaris Marketing Research Inc. announced today that it has been prominently profiled in a popular business college textbook, Boone & Kurtz: Contemporary Marketing, now in its 15th edition. The very complimentary profile was featured on the first two pages of the chapter titled Marketing Research and Sales Forecasting with the headline "Polaris Marketing Research Shows the Way."
"We are both honored and pleased to have our company profiled in such a positive way and in such a prestigious textbook," said Jan Carlson, president of Polaris Marketing Research. "This is wonderful affirmation that our efforts to provide innovative, reliable marketing research and top-quality service are recognized by such eminent marketing leaders as the authors."
The profile touts Polaris' expertise in brand research: "[Polaris'] expertise covers... creating a new brand strategy, understanding how far your brand can stretch, brand architecture, brand management, revitalizing brands and brand positioning." The authors go on to feature Polaris' experience with customer satisfaction research. "The company's services span many different areas intended to help clients identify, understand and retain current and future customers."
Contemporary Marketing, Fifteenth Edition is authored by Dr. Louis E. Boone and Dr. David L. Kurtz and published by the South-Western, Cengage Learning (Mason, OH) in 2011.
Founded by Jan Carlson, Polaris Marketing Research is a full-service firm that provides state-of-the-art online interactive marketing research reporting, interviewing and data collection, quantitative and qualitative research expertise and personalized project management.
Atlanta-based Polaris Marketing Research is affiliated with the Council of American Survey Research Organizations, the American Marketing Association and the American Society for Quality.
You can view a reprint of the profile as it appears in the textbook at the following website location: http://www.polarismr.com/polaris-profile-bk-contemporary-marketing
###