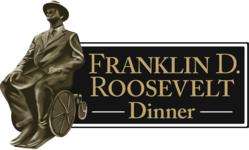 Our distinguished honorees are recognized for their commitment to civil justice for people with disabilities. -- Paula Pearlman, Esq., Executive Director, Disability Rights Legal Center
Los Angeles, CA (PRWEB) November 07, 2011
The Disability Rights Legal Center (DRLC) whose mission is to champion the rights of people with disabilities through education, advocacy and litigation, holds its annual Franklin D. Roosevelt Dinner on Thursday, November 17, 2011 at the Omni Hotel, 251 South Olive Street in downtown Los Angeles. The fundraiser honors distinguished excellence in corporate diversity, health advocacy and efforts towards the promotion of the rights of people with disabilities. To purchase tickets or to find out more go to the Disability Rights Legal Center website.
The Corporate Diversity Award is awarded to NBCUniversal, one of the world's leaders in media and entertainment that strives to include disability in all of its diversity efforts—from their Affinity Groups to their Diversity Council. Diversity can be seen throughout all of NBCUniversal's programs and properties. Accepting on behalf of the company is Craig Robinson, Executive Vice President, Chief Diversity Officer, NBCUniversal.
This year's Charles D. Siegal President's Award recipient is Francine R. Kaufman, M.D. Currently Dr. Kaufman serves as the Chief Medical Officer and Vice President Global Medical, Clinical & Health Affairs at Medtronic Diabetes, Distinguished Professor Emerita of Pediatrics and Communications at USC and is a physician at The Center for Diabetes, Endocrinology & Metabolism at Children's Hospital Los Angeles. A past president of the American Diabetes Association, Dr. Kaufman receives the award for her continuing advocacy for children and adults with diabetes so that they fully participate at school, work and play. Dr. Kaufman's advocacy on behalf of children with insulin-dependent type 1 diabetes resonates deeply with the DRLC's mission.
For public service and advocacy efforts, the DREAM Award (Disability Rights in Entertainment, Arts & Media) Award is presented to Nick Jonas, the singer-songwriter, musician and actor best known as one of the Jonas Brothers and for the hit song "A Little Bit Longer," about his personal struggle with type 1 diabetes. "For someone listening, it can be about whatever struggle is going on in their own life," says Jonas, who was diagnosed at age 13 in 2005. Jonas strongly believes in the rights of people with all types of disabilities and advocates for increased health related research and government funding.
With support from the Franklin D. Roosevelt family, the DRLC inaugurates its annual fundraiser's new name and acknowledges the personal role that the 32nd President played in the history of disability rights in America. Past DRLC award recipients include the corporations Starbucks, Verizon Wireless and Ticketmaster, the United States Senator Tom Harkin, and actors Fran Drescher and John Lithgow.
ABOUT THE DISABILITY RIGHTS LEGAL CENTER: Founded in 1975 by friends and colleagues of A. Milton Miller, one of the leading advocates of the disability rights movement in California, the DRLC continues to ensure compliance and has championed the rights of tens of thousands of people with disabilities through education, advocacy and litigation. The Center is part of the Public Interest Law Center of Loyola Law School Los Angeles. The DRLC is a national nonprofit law center that specializes in civil rights cases on behalf of persons with disabilities. The DRLC seeks to promote change primarily in government agencies and other institutions by establishing precedent-setting court cases and by educating the disability, business, government, education, cancer and legal communities to avoid common issues that result in discrimination. The DRLC trains local governments, people with disabilities and has close working relationships with disability commissions and grassroots disability organizations. The DRLC partners with other public interest law offices and private law firms to litigate systemic issues and legislative advocacy efforts. Since its beginning, the Center has reached well over a million individuals through its community outreach and training events.
Disability Rights Legal Center
800 S. Figueroa St.
Ste. 1120
Los Angeles, CA 90017
Telephone 213-736-1031

Video Relay 866-912-8193
###