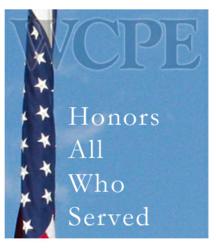 "I've listened to your music both in Iraq and Afghanistan," says a Lt. Col. from Fort Bragg. "It is nice to be able to have a few quiet moments."
Wake Forest, NC (PRWEB) November 04, 2011
WCPE's Assistant Music Director Kenneth Bradshaw invites listeners across the country to remember those who have served in the United States Armed Forces. Through music, WCPE will remember and honor all service men and women on Veterans Day, Thursday, November 11, 2011.
WCPE will be participating in Armistice Remembrance, November 11 at 1600 hrs (GMT), 11 a.m. (ET). WCPE will broadcast "Taps" as a momentary remembrance of the end of WWI.
The works offered during the day (ET) are:
8:00 a.m. Sousa: "The Liberty Bell"
10:00 a.m. Dvorak: String Quartet no. 12 in F (American)
11:00 a.m. "Taps" and "America the Beautiful"
1:00 p.m. Copland: "Letter from Home"
2:00 p.m. Grofé: "Grand Canyon Suite"
3:00 p.m. Various: U.S. Armed Services anthems
"I've listened to your music both in Iraq and Afghanistan," says a Lt. Col. from Fort Bragg. "It is nice to be able to have a few quiet moments," he continues, "to listen to the beautiful music of the great composers."
WCPE's 24/7 live broadcast of Great Classical Music can be accessed around the globe in several ways; on-line streaming in multiple formats, including IPv6, local cable television systems and traditional radio broadcasting. A complete list of the ways WCPE is available with instructions for cable and satellite reception can be found at: http://theclassicalstation.org/listen.shtml.
About WCPE:
Since 1978 WCPE 89.7 FM has been dedicated to excellence in Great Classical Music broadcasting. WCPE is one of the first community-supported stations to stream on the Internet. The programming is available on our own satellite channel and on multiple Internet streams, including IPv6. WCPE receives no tax-derived support, rather depends on tax-deductible support through on-air fundraising and mail-out campaigns. More information can be found at http://www.TheClassicalStation.org or by calling 919-556-5178.
Media Contact:
Curtis Brothers
800/556-5178
curtis(at)TheClassicalStation(dot)org
###