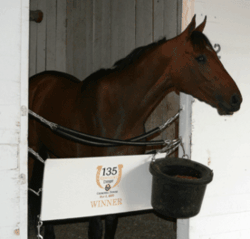 Roswell, NM (PRWEB) November 04, 2011
Story of Mine That Bird Comes Out in Children's Graphic Novels
135th KY Derby Winner Story – Just in Time for the Holidays
People say the story of Mine That Bird is the real life story of "Rocky", except this "Rocky" has four legs. Against all odds, the remarkable little horse from Roswell, New Mexico became the winner of the 2009, 135th Kentucky Derby. Picked to run dead last, with odds against him at 50:1, Mine That Bird's victory is the second largest upset in Kentucky Derby history.
Mine That Bird's owners, Mark Allen and Leonard "Doc" Blach, intend to inspire readers around the world this holiday season with the Bird's positive story of possibility, "if you believe in it and work at it, anything is possible." The owners are releasing an inspirational and entertaining graphic novel, At The Gate, which was written by Rod McCall and Price Hall. The book is being self-published by Mine That Bird The Movie, LLC.
The 48- page story is the first in a trilogy of graphic novels that depicts Mine That Bird's life, challenges and victories. The books will also be the basis for an animated film. The animated film will be developed at New Mexico State University's Creative Media Institute.
"We're hoping to entertain and motivate kids of all ages, especially those who think they just don't have a chance", said Mark Allen.
Best of all, for those of you who've always dreamed of being a jockey, the Mine That Bird team is giving you a chance to do just that. You can register to win the "Be a Jockey for a Day" contest at http://www.minethatbird.com. The winner, and the winner's companion, will be flown to Roswell, New Mexico. They will receive VIP treatment, which includes spending an entire day with Mine That Bird, and then chow down at the Double Eagle Ranch with the Bird's down home cowboy owners for a big western style "cowboy bar-b-q". If you're the winner you'll find out in person what it's like to live the life of a horse-racing rancher, train a winner, and ride him to victory.
"Mine That Bird is a story of hope, determination and victory against the odds. We are thrilled to be able to share such a story with the world in a meaningful way," "Doc" Blach added.
At The Gate is available for only $12.95. The book is also available in Spanish. For more information on Mine That Bird, the books and the contest, go to http://www.MineThatBird.com. Also follow Mine That Bird at http://www.facebook.com/minethatbirdthemovie and Twitter: @minethatbirdnm.
Contact: Joanie Griffin (505) 261-4444
jgriffin(at)griffinassoc(dot)com
###